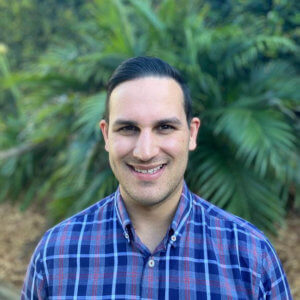 By Barry de Silva
National Communications Manager
Damian Moratti is the CEO and co-founder of Liminal VR, and explains the psychological research and work he and his team have been doing in VR.
"Liminal is a platform for short VR experiences that empower people to choose how they'd like to feel and perform. In parallel to this, we have been developing bespoke training and simulation, clinical and marketing experiences for a wide range of clients. We're also just about to launch the Positive Leadership Training Suite as a pilot in Victoria." Damian said.
"The latter has been funded by WorkSafe Victoria through their WorkWell program, to help train managers to manage young workers without causing psychosocial harm."
Through Liminal VR's global education partnership program students at schools and universities around the world have the opportunity to build experiences in one of four categories – calm, energy, pain relief, and awe.
"SAE were early adopters of the program, and we are now working with the likes of LaSalle College in Vancouver and Columbia College in Chicago as well as many other schools and universities around the globe.
"Through the program, students who wish to create experiences are given access to Liminal's 'Psych Docs'. These are maintained by the research team and have over 300 citations from published neuroscience, psychological literature, and the results of our own research."
"We encourage students to delve deeper into theories, evidence and case studies around gameplay and interactivity, motion, nature, and mindfulness."
Matt Young, who graduated in 2018 with a Bachelor of Games Development graduate from SAE Melbourne, created an experience called 'Calming Sirius' while he was studying. To date, it's been played 4,625 times, and has on average increased positive moods of users by 24.7 per cent.
"I designed a space environment, with two stars revolving around a focal point, with a particle system that made users feel like they're cocooned and protected," Matt commented.
"For my own development, it was such an honour to access research that had taken Liminal years to put together."
Naomi Holt, who graduated earlier this year from SAE Melbourne with a Bachelor of Game Development degree, managed a project with four other students called 'Fruit Loops' – a pain relief experience. On average it decreased users' pain intensity by 10.9 per cent, and acute pain intensity by 13.4 per cent.
"We did a lot of research, as we initially had different interpretations of what pain was. One of the team was a nurse who worked in healthcare, so we were able to utilise her experiences," Naomi said.
"Health and wellbeing in design is going to be the future, so Liminal's perspective on VR and it being used for good resonates with my own values."
The Australian College of Applied Professions' Associate Dean, Professor Kathryn Nicholson Perry, whose areas of specialisation are in pain management and spinal cord injury, believes VR has the potential to improve user well-being.
"There has been a lot of interest in how manipulating sensory input, using mirrors and more recently VR, may help to address some of the changes in the brain arising from neuropathic pain conditions," Professor Nicholson Perry stated.
"While we might think of pain being located in the part of the body where we feel it, pain is essentially a process in someone's brain. VR may help the brain by changing incoming stimuli – what Liminal is doing is really fascinating."
Tags
AR VR
Games
Melbourne
Students
Work placement