About SAE
WE BELIEVE PIONEERING MINDS CREATE THE FUTURE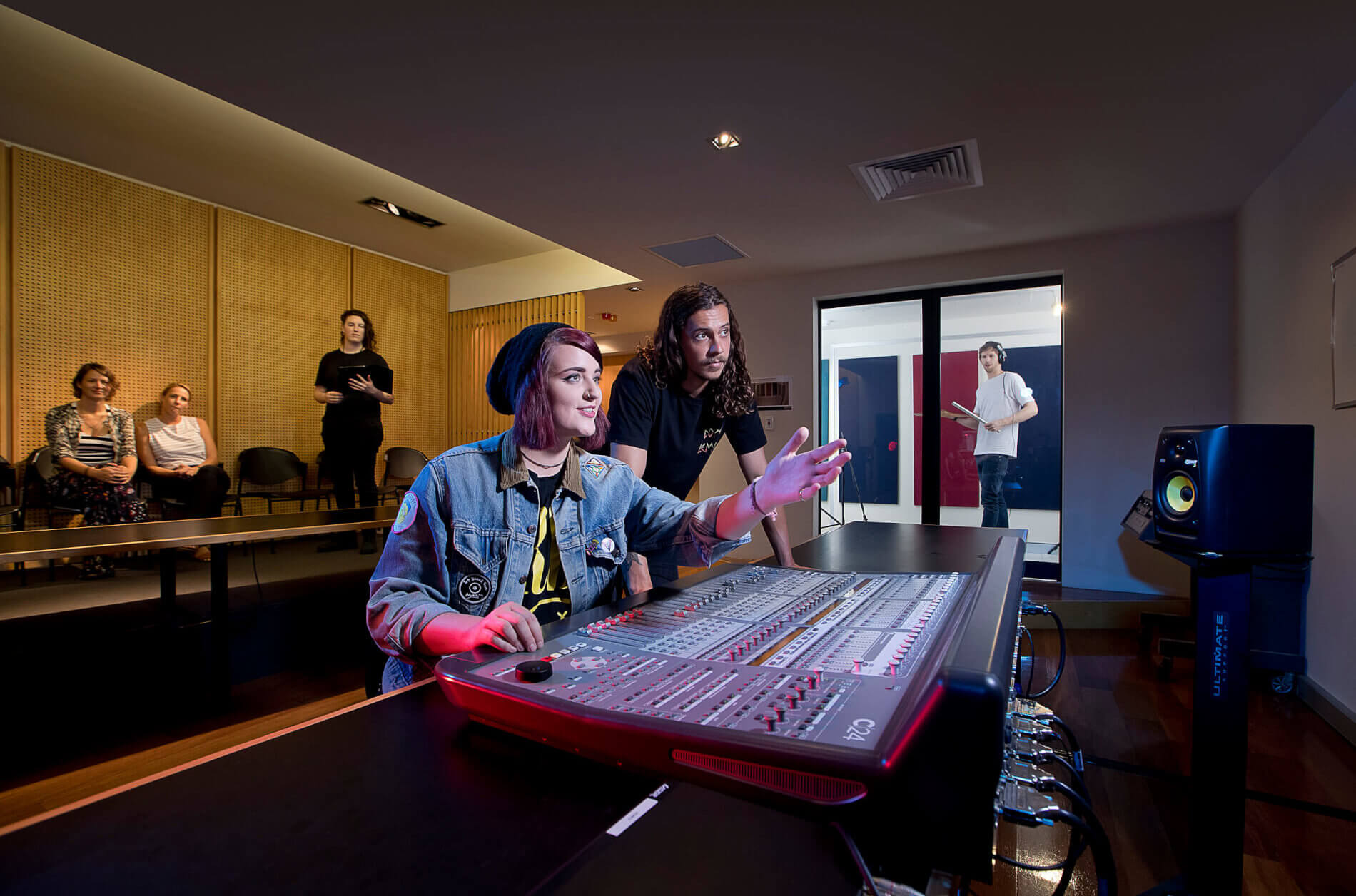 At SAE, we understand all ideas need a place to grow and be nurtured.

Our reputation as the leading global specialist in creative media education comes from over 45 years' developing student creativity, delivering innovative practical skills, and coaching real-world business and industry awareness.
Not your average classroom.
A dynamic global institute with high industry credibility, SAE provides specialist vocational and higher education courses worldwide to inspire and develop our graduates.
Located in Brisbane, Byron Bay, Sydney, Melbourne, Adelaide, and Perth, our Australian student body consists of over 2,500 creatives who excel in programs across seven disciplines – Animation, Audio, Creative Industries, Design, Film, Games, and Music.
Responsive to the real world and embracing the digital revolution, we pride ourselves in thinking outside the square, being technically explorative, transformative, and brave.
Contemporary and inspiring, SAE courses are definitively high-tech and have their finger on the pulse of creative industries around the world. We offer courses in more than 20 countries with around 50 campuses, enabling collaboration with a world view.
With a practical focus, our courses are constantly evolving to meet the needs of students and industry demands. They are delivered on-campus and online using cutting-edge technology and offer a highly personalised, interactive, and collaborative learning environment.
As an SAE student, you will have access to our industry-leading campuses, utilise the latest equipment and software, and benefit from our extensive industry network.
We're passionate about our students' potential and encourage them to chase their dreams. We promise that your SAE experience – wherever you are enrolled in the world – will offer a progressive learning experience to meet your creative and professional aspirations, help you stand out from the crowd, and give you a ticket to the global stage.
Welcome to our creative world!
OUR HISTORY
Established in Sydney in 1976 – originally as the world's first dedicated school of audio engineering (SAE) – the organisation's rapid early success and the demand for our high-tech, creative and industry-relevant training quickly led to the establishment of nationwide campuses.
Our presence in Australia and abroad grew exponentially and, in 2004, SAE Institute acquired Qantm College, a leading digital media educator with an impressive pedigree, specialising in games design and programming, 3D animation, web development, and graphic design. We created the new brand, SAE QANTM Creative Media Institute.
In 2020, SAE gained self-accrediting authority and again repositioned itself as SAE Creative Media Institute.
SAE has concurrently expanded strongly into the global arena as a leading digital media educator.
SAE International
From its humble beginnings in Sydney in 1976, SAE has become a global player in creative media education.
We now boast almost 50 campuses in some of the world's largest, most exciting cities including New York, Dubai, Jakarta, London, Paris, Barcelona, Berlin, Bogotá and México.
Our brand in Europe, UK, New Zealand, South Africa, USA, Canada, Mexico, the Middle East, South-East Asia, South America and at other Licenced Campuses is known as SAE Institute.
ABOUT NAVITAS
The SAE brand sits under the corporate umbrella of Navitas.
Navitas is an Australian global education leader reaching more than 80,000 students across a network of over 120 colleges and campuses in 28 countries providing:
University courses at Certificate, Diploma, Bachelor and Masters level
Creative media courses at Certificate, Diploma, Bachelor and Masters level
Continuing professional development
Career advancement programs
Corporate training to government and business
High school studies
University preparation
Migrant settlement services
English language training
The Navitas success formula is underpinned by our unparalleled international network, an unrivalled commitment to student experiences and outcomes, a track record of working in partnership with universities and industry, and a passion for discovering new technologies and models of teaching and learning that will improve education now and into the future.