Bachelor of Design & Visual Communication
THE PATH TO YOUR DREAM DESIGN JOB IS LAID OUT RIGHT HERE
6 Trimesters Full Time (Fast Track)
Complete your course faster by studying units across 2 years (6 trimesters).
Bachelor of Design & Visual Communication
Course Durations
6 Trimesters Full Time (Fast Track)
Complete your course faster by studying units across 2 years (6 trimesters).
8 Trimesters Full Time
Complete the study units across 2.5 years. (8 trimesters).
9 Trimesters Full Time
Whilst still classified as a full-time study load, you will complete course units over a 3 year period (9 trimesters).
Part-time option available
If you want to take a little longer, that's ok too. We'll help you work out the best study load to suit your needs.
Note: Part-time is not available for international students.
---
We understand that things can change, so you'll have the flexibility to change your study load throughout your course if you need to.
Bachelor of Design & Visual Communication
Start Dates
Online
September 2023

February 2024

May 2024
Bachelor of Design & Visual Communication
Domestic Entry Requirements
Domestic students must meet one of the following criteria:
Completion of a Australian Senior Secondary Certificate of Education (QCE, WACE, HSC, SACE, etc) (like your Year 12 certificate or equivalent); OR
Completion of a Diploma level qualification issued under the Australian Qualifications Framework (AQF); OR
Completion of a Certificate IV level qualification issued under the Australian Qualifications Framework (AQF); OR
BACHELOR OF DESIGN & VISUAL COMMUNICATION
Our course is about much more than visual aesthetics, providing you with a detailed understanding and hands-on experience of the role of design in the contemporary world. You'll explore branding and identity design, online and print design, digital image-making and user-centred design. You'll create targeted designs with a particular audience in mind, and develop the skills to come up with creative solutions to complex problems in almost any context.
At SAE, you will engage in virtual collaborative learning and also one-on-one mentoring opportunities you may not find in a larger university. You'll apply theoretical knowledge through studio best-practices and access the latest software like the Adobe Creative Suite as well as have the option to access on-campus facilities.
Your growth and development will be assessed holistically based on your engagement with and completion of real-world projects and you'll learn to apply a strategic, entrepreneurial eye to your clients' needs. You will build up a diverse portfolio of work to share with potential employers and clients.
Ultimately, the Bachelor of Design and Visual Communication will allow you to flourish in a rapidly changing world, giving you the skills to apply design-led solutions to a wide range of communication challenges. With a design qualification, you can work in large corporations or small agencies, as a freelancer, or as part of an entrepreneurial project team in any industry. Work placement will provide practical experience and help to build your network. You'll be equipped with employability skills, giving you professional strategies in communication and self-promotion, and the confidence to claim your place in the workforce.
With a Bachelor of Design and Visual Communication, you'll be ready for cutting-edge industry roles using modern creative business concepts and strategies. Career options include UI Designer, Content Creator, Creative Director, and Branding or Identity Designer in any industry.
Enjoy the benefits of being SAE trained – our design students have achieved great success in the creative industries. SAE graduates are known within the industry for their high-level skills and are in high demand.
CAREER OUTCOMES
What jobs will this course lead me into?
Graphic designer

Content manager

Print and digital designer

Social media designer

UX designer

UI designer

Creative director

Branding and identity designer

Art director
Eliza Allard
"Being able to finish my degree and start my career at the age of 19 was a huge plus for me, as it meant I got four years in the industry before I started my business."
SAE Alumni | Current Job: Director/Founder, The Content Lab
Thomas Hartley
"The cross pollination of my final project was really valuable. Getting to work with animation students on 3D stuff was awesome - SAE is great for that."
SAE Alumni | Current Job: Creative Designer (CAA Agency & previously at Adidas)
Kara Thattanakham
"SAE introduced me to digital methods of design and art which took me in the direction I am in now."
SAE Alumni | Current Job: Graphic Designer
Why study a Bachelor of Design & Visual Communication at SAE?
Learn in a virtual collaborative environment where your teachers are also your mentors.
SAE has a range of approaches to learning and teaching - virtual and on-campus - to provide flexibility and real-world application.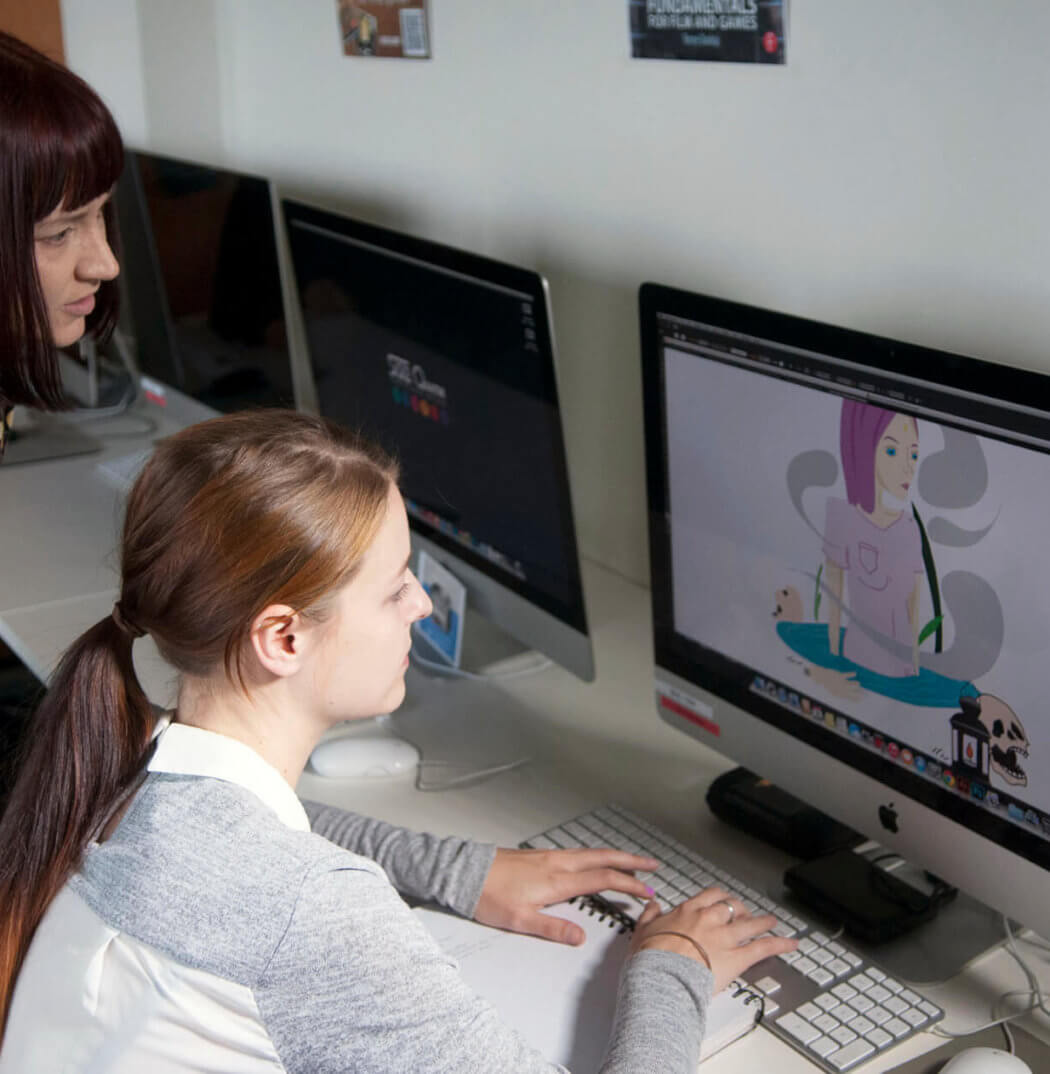 Access advanced-level industry-standard software packages like Photoshop, Illustrator, InDesign, Adobe XD and After Effects.
Apply best practices and advanced techniques using tools and software
Access to a range of software packages like Photoshop, Illustrator, InDesign, Adobe XD and After Effects.
Practical, immersive training
Learn as you collaborate on real-world projects and briefs. Build a portfolio to share with an employer or first client.
Cross discipline collaboration
Use your design skills to work across film, audio, music, gaming and animation projects at SAE.
Expand your career
Graduate with a portfolio, work experience, employability and entrepreneurial skills and a network of fellow creatives.
YOUR CAREER IN DESIGN BEGINS NOW
Design & Visual Communication Skills
Branding and identity design
Online and print design
Digital image-making
User-centred design
Course Structure
The Bachelor of Design & Visual Communication is broken up into three distinct stages, each designed to develop different skills.
Develop the essential technical design skills and the knowledge required to collaborate with other creative media students and professionals.
Credit points: 10

In this unit, you will learn about the ideas and concepts of design. You will discover the art of presenting and defending a point of view in a convincing and effective way by referring to valid and trustworthy sources of information. Thinking about and referencing the work of others helps you to develop critical thinking skills. By using tools on the internet and working with others you will expand what you alone can achieve. In your projects, you will delve into the history and language of the design industry in order to develop an understanding of your place and purpose within it.
Credit points: 10

In this unit you will learn about the principles of design through creating vector graphics in the form of motifs, pictorial marks and logos using Adobe Illustrator and other tools. Project briefs and activities in this unit introduce the principles of design; these are visual rules that can be applied in the creation of any image to enhance their impact, attractiveness and ability to communicate. The principles of design are useful and essential to your ongoing design practice

Credit points: 10

In this unit you will learn about illustration and the creative and technical production of digital images using photoshop and other tools. Working by hand and digitally you will explore a range of drawing techniques and tools including processes of iteration and refinement. You will investigate visual storytelling through the development of a series of images. Storytelling through your creative practice is essential to your ongoing design practice.
Credit points: 10

In this unit you will learn about designing page layouts for print through the combination of images and type. Your work will include the design of posters, brochures and flyers. You will investigate historical design styles; analysing, adapting and applying these styles in your work. You will explore the typographic art of arranging letters and words to make copy easy to read, visually appealing, and stylistically appropriate. Knowing how to use typography and layout effectively is essential to your ongoing design practice.
Credit points: 10

This unit will introduce you to the mindset and skillset of the creative entrepreneur, and transform your approach to problem-solving. You will analyse historical and contemporary models of leadership and best practice in entrepreneurship, and use tools for project design that include ideation, problem framing, and pitching. The skills in this unit will assist you in developing your creative thinking, exploration, and experimentation methods, allowing you to experiment with project design and content for creative media.
Credit points: 10

In this module you will learn to understand the user or target audience as part of your design process, through an exploration of UX (user experience) and UI (user interface) design. By applying the tools of UX design such as personas and user journeys and those of UI design such as prototyping, iterating and testing you will explore the creation of websites or apps that provide an ideal user experience.

Credit points: 20

This unit will simulate being in a real-world studio. Your designs will respond to larger project briefs with multiple deliverables, and you will engage in teamwork. This means time management, communication and scheduling will be crucial. You will learn to consider projects strategically in terms of your client's brand or identity, and how these can be communicated visually and through associated text and structures. You are encouraged to explore and seek out new contemporary methods and tools for design and communication.

In this studio setting your facilitator will act as your project manager, producer, mentor and colleague.

This unit will be holistically assessed based on the criteria outlined in the unit guide. Teamwork, collaborative skills, and engagement with specific feedback processes are emphasised in this unit, as you further refine and reflect on a set of Transferable Skills.
Broaden your scope to work on complex multidisciplinary projects in accordance with industry standard practices.
Credit points: 10

In CIM210 you will be working on interdisciplinary projects that relate to some of the most important concepts in contemporary media production. You will learn practical and analytical skills in order to help you develop your creative powers and meet briefs that take you out of your comfort zone. You will need to bring all of the skills you have learned so far: technical skills, research skills, communication skills and a growth mindset, and be prepared to encounter new concepts and new ways of working.
Credit points: 10

Designers use typography on screen and in print, for packaging and signage, in all kinds of communication, advertising and branding. In fact typography is an essential element of contemporary design practice. Using typographic knowledge, skills and principles professionally is one key to success. 

This unit focuses on type used in multi-page layouts, in title design and in packaging. You will explore design principles like hierarchy and contrast, compositional techniques and style, as well as the use of elements such as colour, shape and size. You'll also be introduced to some historical and social ideas.
You will learn how to use professional terminology that will allow you to explain your design choices and the production of design solutions for your audiences and clients.
Projects in this unit include, the design of a magazine and online blog, packaging and branding design. In these projects you will look at both print and digital media.
Credit points: 10

This unit focuses on the Design Thinking process. Taking you through a series of steps from problem framing through to prototyping and pitching, you will produce and test design solutions that address rich and interesting social themes.
Projects in this unit include experimentation with images and platforms for science communication. You will look at a new breed of young, diverse science communicators and imagine how as designers we can enhance this kind of work visually and conceptually. You will grapple with truth and representation, audience and ethics in the communication of scientific issues that range from amazing new discoveries in our oceans, through to the history of evolution and climate change.
Another project in this unit applies the design thinking process to the concept, visual assets and pitch for a serious game. Your game will address a topic such as physical and mental health, education or conservation in an attempt to encourage behaviour change.
Credit points: 10

This unit builds on your work in DDX171, Fundamentals of Image Making. You will develop your visual literacy and learn more skills in image production, processing and manipulation. 
These skills and the ability to talk about your design choices with clients will enhance the impact of your design work. You will experiment with both pixel and vector based images in Adobe Photoshop and Adobe Illustrator, looking at technical aspects of image production as well as the importance of driving concepts. 
Projects in this unit will cover basic photography composition as well as image creation, manipulation and processing in the production of a range of works.
Credit points: 10

Using social media and digital content effectively is crucial for creative media professionals. In this unit you will develop an understanding of what constitutes social media, the activities that it consists of and how creators and audiences connect, collaborate, create, and share content. You will link this understanding with concepts of digital marketing, formulating strategies for social campaigns with a range of content across platforms. These skills will assist you to determine how social media can be utilised in your professional practice
Credit points: 10

Media and culture are not simply entertainment, but something that affects the "real world", our everyday lives, and our worldviews. As such, we will not ask whether media accurately reflect the real world but instead ask how media shape, reinforce, and challenge power structures that influence our understanding of the world and ourselves. This unit takes a 'critical theory' approach to analyze media and culture. In this unit, you will explore media texts, contexts and meaning, society and subjectivity, pop culture aesthetics, and critical cultural discourses that inform creative media practices.

Drawing on a range of creative content and analytical frameworks, you will be encouraged to develop ways of thinking about media and culture that demonstrate a broad awareness of aesthetic principles and stylistic trends; subjectivity, agency, ethics, and relations of power; contexts, disciplines and discursive formations. In support of this exploration, you will produce a range of media artifacts that explore and contextualize the relationship of media to culture through individual analysis, collaborative and interdisciplinary creative practice, and critical reflection.


Credit points: 30

This unit will simulate being in a real-world studio. You will build on skills gained earlier in the course with various modes of design but with a stronger strategic focus and with a set of skills and mindset that seeks out and allows you to collaborate effectively.

You will actively explore the benefits of bringing creatives from other disciplines into your teams in terms of the value this brings to your campaigns. Your teams may include students from other disciplines or campuses and external clients. You will consider how your transferable skills enhance your own identity as an emerging professional. This means consideration of your teammates and clients' cultural and industry contexts as well as thoughtful and conscientious time management, communication and scheduling.

Crafting compelling driving questions will allow you to attract interested, engaged and motivated creative teams. You will reflect on your scholarly practice looking for connections to your design practice.

You will learn to consider projects strategically in terms of your client's identity, and also your own identity as a professional, by considering what you can personally provide to allow for successful and satisfying projects.
Execute a project of your own design which is of high quality and externally published, with the knowledge to commercialise if you choose. You'll also apply your skills through industry work placement.
Credit points: 20

This is the first unit in a two-part process of developing a collaborative project, designed to meet professional publication standards. In a group, you'll design and execute a full-scale creative project which will be designed to a specific target audience and market of your team's choosing.

Working closely with SAE Project Supervisors, your project will be guided through formal pre-production and production processes to deliver a creative media project. If you are undertaking a specialisation in your course, you will be required to align it with this capstone project as part of the approval process.

This unit is designed to support the pre-production process, long term success of the project and the fair and equitable contribution of group members. You'll present to the panel your forward plan for the project, which demonstrates rigourous pre-production processes to mitigate risk to ensure the project can be delivered on time and to specification.

Once you successfully complete this unit the emphasis of the capstone project development will move away from pre-production into full production mode.
Credit points: 20

Your final studio unit is an opportunity for you to finesse your skills in areas that appeal to you, with your capstone project development in mind. You will be responding to industry-related briefs in a way that displays your personal and professional skills.

As an effective collaborator, you will be expected to engage in projects that extend and refine your practice and provide high quality examples of creative work for your portfolio. You will confidently apply what you have learned about time management, communication and other transferable skills keeping in mind the ways that your transferable skills enhance your own identity as an emerging professional.

You will think about and apply what you have learned in your scholarly practice to your work in terms of themes and concepts, and seek out a community of practice that explores similar ideas, and that may form a network for your professional practice.

You may create a point of difference in your work through the creative application of contemporary methods and tools for design and communication that augment your abilities, and enhance your existing skills.

Credit points: 20

CIM330 Major Project Production, along with CIM310 Work-Integrated Learning and CIM312 Major Project Development, form the final capstone experience of your undergraduate studies. In CIM330, you will build on the project plan and pre-production work that you have completed in CIM312. You will now complete the production and delivery of your final creative work. This will include the execution of the marketing and distribution plan developed in CIM312. Broadly speaking, this unit is about production and exhibition.

You will apply all of the production processes and procedures you have learned over the course of your degree and record these in your Documented Professional Practice as a means of demonstrating your progress and contribution within your team.

In this unit, your final project will now move into its production phase. Over the coming weeks, you will work collaboratively to deliver your creative work. You will apply the processes and standards you have learned throughout your learning at SAE. You will keep a record of this production process via Documented Professional Practice and deliver the production documentation appropriate to your project. Your CIM330 project supervisor will be a reference point for this documentation process.

Your project supervisor will meet frequently with you and your team during the trimester and will work with you to control and guide the scope of your project. This process ensures that by the end of CIM330 Major Project Production you will have a portfolio piece that represents the sum total of your skills and experience, delivered on time and to specification.
Credit points: 10

The aim of this unit is to introduce you to the core business structures, management frameworks and marketing strategies used by contemporary creative professionals. You will discover the key behaviours and practices of successful creative business people and the business principles they implement – strategies you can use in your own professional practice. This knowledge will assist you in effectively exploring your creative business niche, encouraging you to develop and operate as a sustainable professional within your chosen media field. Through an examination of marketing strategies and processes, you will be able to identify and target specific consumers and markets. You will then research and develop a product- or service-based business that meets the demand within these target markets. You will also develop fundamental marketing, promotional, communication, and financial skills essential to running a creative media business as well as exploring start-up methodologies and structures within the creative industries.
Credit points: 10

The transition from study to work is an important step for you as an emerging professional in the creative industries. Work Integrated Learning provides you with a professional experience opportunity that both complements and further deepens the skills and knowledge you have gained from study. Throughout your studies you have had to learn on the job (in projects), focus on building strong relationships with people, develop strong communication skills, and use a range of transferable skills. During your work placement you will put this knowledge and skill set into action in a real-world professional workplace. This is a valuable opportunity to gain experience in a professional setting and further develop your job-readiness. The Work Placement requires a minimum of 80 hours at one or more host organisations. Both the student and the host are required to complete an SAE Agreement that formalises the placement. Work placements can only commence after Stage 1 of your Bachelor course has been completed, and only upon successful completion of CIM151/ CIE152 and approval from the local Industry Liaison Coordinator (ILC). If approved by your ILC, you may undertake a work placement before official enrolment in CIU310/CIM310, and 'bank' the work placement hours.

The Work Placement Handbook outlines in detail the assessment tasks and obligations of students and hosts. Attendance in this unit also includes a minimum of nine hours of class time for the delivery of unit information and development of documentation. All elements must be successfully completed to the defined standard to receive a Pass.
Australian Qualifications Framework
AQF Level: 7
FULLY ACCREDITED BY TEQSA
We consult closely with industry professionals so you can expect a course that's highly relevant and equips you with sought-after skills.

Certificate
A certificate course serve as an introduction to an area of the creative industries. Potentially a small number of principles or specific skills can be covered during the course. A certificate can also provide broad contextual learning in the creative industries.
Certificates are a great way to gain an introduction to a field of study or learn a skill. Certificate courses can add to your knowledge and your career.
Diplomas
A diploma is niche skills focussed. By undertaking an SAE diploma in animation, audio, film or games, you will develop foundation skills in these specific discipline areas. Students can use the SAE diploma as a pathway to degree level study at SAE and at other Australian tertiary institutions.
Diplomas are a great option for people who haven't studied before and/or those looking for an alternative pathway to degree level studies.
Associate Degrees
An associate degree offers a combination of niche skills combined with a greater depth and breadth of theoretical knowledge and analytical skills. An associate degree offers portable skills and develops sustainable, lifelong learning.
Students can use the SAE Associate Degree as a pathway to degree level study at SAE and at other Australian tertiary institutions. SAE associate degree courses attract Fee-Help for Australian students.

Bachelor Degrees
A bachelor degree offers a rigorous combination of niche skills combined with a greater depth and breadth of theoretical knowledge and analytical skills. This knowledge is applicable to both your creative media discipline and the professional world more broadly.
A bachelor degree offers you an entry point to professional work, builds portable skills, and develops sustainable, lifelong learning. Key high learning skills are a requisite of the bachelor degree and graduate study options are available upon completion.
Bachelor degrees are suitable for people looking to develop professional skills and knowledge and to build long-term, successful careers in their industry of choice. SAE bachelor degree courses attract Fee-Help for Australian students.
FEE‑HELP* is an Australian Government loan scheme that assists eligible fee paying students pay all or part of their tuition fees. It cannot be used for additional study costs such as accommodation or text books. The total amount of FEE‑HELP a person can use is known as the 'FEE‑HELP limit'.
Once a person begins using FEE‑HELP, the amount of FEE‑HELP they have left to use is known as their 'FEE‑HELP balance'.
* Terms and conditions apply. For the latest updates regarding FEE-HELP please refer to sae.edu.au/fees
Easy transition into postgraduate courses
SAE Bachelor Degrees are structured in an integrated course framework.
This means that when you complete an SAE of Design & Visual Communication you will be awarded the maximum credit points available, providing you with the opportunity to seamlessly transition into the higher-level postgraduate qualifications if you choose to do so.
CREDIT AND RECOGNITION OF PRIOR LEARNING


SAE may recognise your prior learning and may grant credit towards satisfying the requirements for a higher-level program. This is applied where previous learning is considered equivalent to the content and learning outcomes prescribed for units within the program.
For full details, please refer to SAE's policy on recognition of prior learning and credit transfers.
YOUR DREAM DESIGN CAREER BEGINS NOW
With our industry connections, specialised teachers and personalised education in world-class facilities, you can unleash your creative future with confidence.