Diploma of Graphic Design
THE PATH TO YOUR DREAM JOB IS LAID OUT RIGHT HERE
Diploma of Graphic Design
International Fees
Indicative Total Course Fees*
$28,040 AUD
* The Indicative Total Course Fee reflects the students are charged fees on a per unit basis and the fee for a unit may increase.
2 Trimesters Full Time (Fast Track)
Complete your course faster by studying the course units over approximately 7 months (2 trimesters).
Diploma of Graphic Design
Course Durations
2 Trimesters Full Time (Fast Track)
Complete your course faster by studying the course units over approximately 7 months (2 trimesters).
3 Trimesters Full Time
Whilst still classified as a full-time study load, you will complete the course units over one year. (3 trimesters)
Part-time option available
If you want to take a little longer, that's ok too. We'll help you work out the best study load to suit your needs.
Note: Part-time is not available for international students.
---
We understand that things can change, so you'll have the flexibility to change your study load throughout your course if you need to.
Diploma of Graphic Design
Start Dates
Online
February 2023

May 2023

September 2023
Diploma of Graphic Design
Domestic Entry Requirements
Domestic students must meet one of the following criteria:
Completion of an Australian Senior Secondary Certificate of Education (your Year 12 certificate) or equivalent; OR
Completion of a Certificate IV qualification or higher (for example a TAFE Certificate IV); OR

Diploma of Graphic Design
International Entry Requirements
International Entry Requirements
Minimum age requirements
International students seeking admission to SAE must be at least 18 years of age prior to the commencement of their study.
Academic requirements
Successful completion of secondary school studies (assessed as an equivalent of Australian Year 12 secondary studies). Minimum overall pass is required.
English language requirements
International English Language Testing System (IELTS): An overall score of 5.5 or higher with no individual band lower than 5.0 (only the Academic Test is accepted), OR
Test of English as a Foreign Language (TOEFL): 63 overall (internet-based test); OR
Pearson Test of English (PTE): Academic score of 36 or higher, OR
Completion of Year 12 English in an Australian secondary school or college or equivalent with a minimum result of "Satisfactory" or equivalent.
DIPLOMA OF GRAPHIC DESIGN
The Diploma of Graphic Design has a strong practical focus, underpinned by key theoretical components. The course content is informed by our strong links to the creative industries and our 40+-year history in designing and teaching creative media courses.
You will engage in virtual collaborative learning, producing work in response to a client brief. You'll explore the mechanics and operations of a studio environment, including the different roles involved in larger projects, collaborative creativity, design strategy, and project workflows.
To complement your technical skills, you will graduate with employability skills, introductory project management skills, and academic techniques for higher education.
Upon completion, you will be eligible for up to 80 credit points towards either the Bachelor of Design and Visual Communication.
YOUR CAREER IN DESIGN BEGINS NOW
Learn in a collaborative virtual environment where your teachers are also your mentors.
SAE has a range of approaches to learning and teaching - virtual and on-campus - to provide flexibility and real-world application.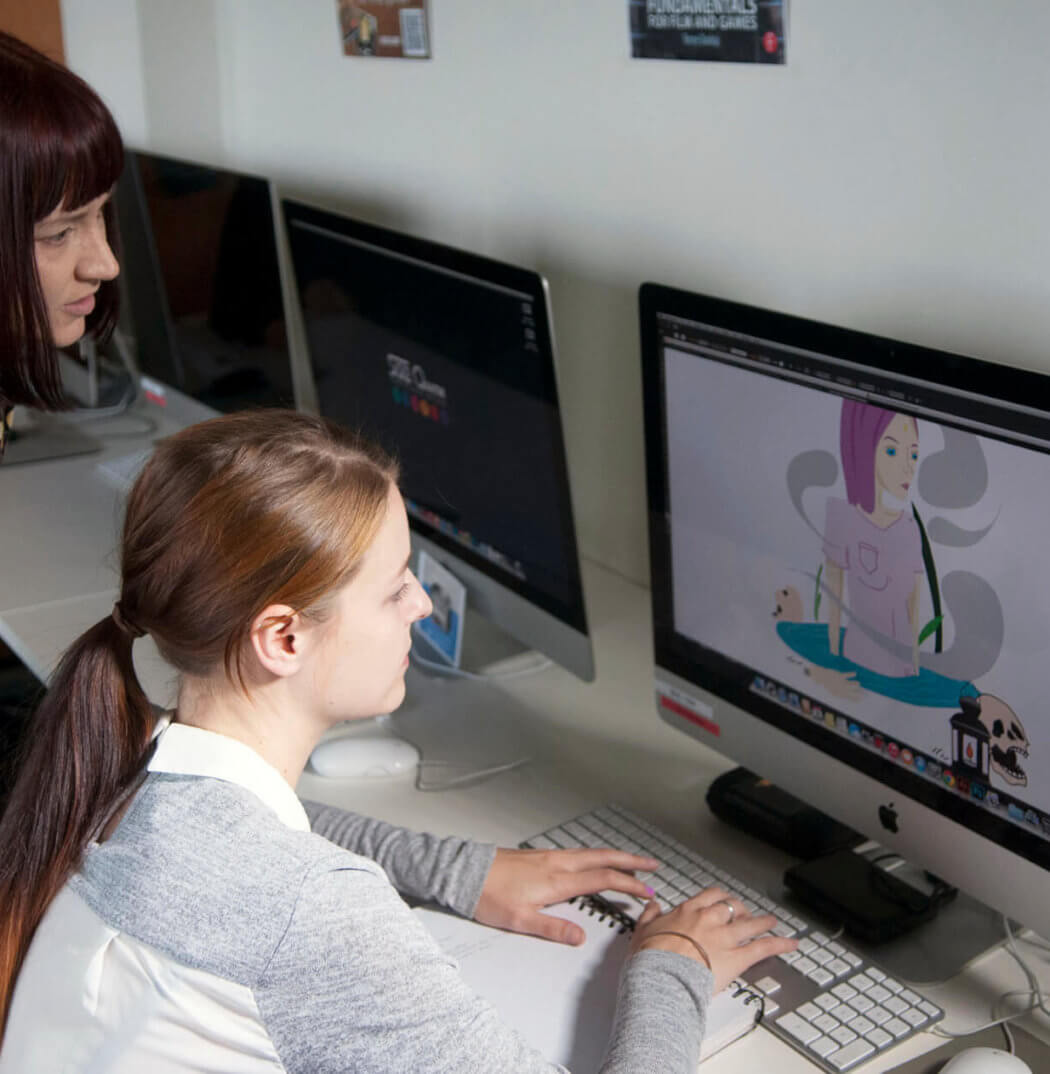 Apply your learning and develop strategies to manage workflows using industry-standard design software like Adobe Creative Suite (InDesign, Illustrator, Photoshop, XD).
Understand and apply best practices of industry tools and software
Apply your learning to a range of software packages like Photoshop, Illustrator, InDesign, Adobe XD and After Effects.
Practical, immersive training
Learn as you collaborate on real-world projects and briefs. Build a portfolio to share with an employer or first client.
Flexible course options
Completing one of the three stages of the Bachelor of Design & Visual Communication, this course provides an excellent pathway into the degree.
Become job-ready
To complement your technical skills, you will develop communication, introductory project management, teamwork and collaboration skills.
Access to Tools & Software
Graphic Design Skills
Branding and identity design
Online and print design
Digital image-making
User-centred design
Course Structure
The Diploma of Design & Visual Communication is stage 1 of the 3 stages of a Bachelor.
Develop the essential technical design skills and the knowledge required to collaborate with other creative media students and professionals.
Credit Points: 10

In this unit, you will learn about the ideas and concepts of design. You will discover the art of presenting and defending a point of view in a convincing and effective way by referring to valid and trustworthy sources of information. Thinking about and referencing the work of others helps you to develop critical thinking skills. By using tools on the internet and working with others you will expand what you alone can achieve. In your projects, you will delve into the history and language of the design industry in order to develop an understanding of your place and purpose within it.
Credit Points: 10

In this unit you will learn about the principles of design through creating vector graphics in the form of motifs, pictorial marks and logos using Adobe Illustrator and other tools. Project briefs and activities in this unit introduce the principles of design; these are visual rules that can be applied in the creation of any image to enhance their impact, attractiveness and ability to communicate. The principles of design are useful and essential to your ongoing design practice

Credit Points: 10

In this unit you will learn about illustration and the creative and technical production of digital images using photoshop and other tools. Working by hand and digitally you will explore a range of drawing techniques and tools including processes of iteration and refinement. You will investigate visual storytelling through the development of a series of images. Storytelling through your creative practice is essential to your ongoing design practice.
Credit Points: 10

In this unit you will learn about designing page layouts for print through the combination of images and type. Your work will include the design of posters, brochures and flyers. You will investigate historical design styles; analysing, adapting and applying these styles in your work. You will explore the typographic art of arranging letters and words to make copy easy to read, visually appealing, and stylistically appropriate. Knowing how to use typography and layout effectively is essential to your ongoing design practice.
Credit points: 10
This unit will introduce you to the mindset and skillset of the creative entrepreneur, and transform your approach to problem-solving. You will analyse historical and contemporary models of leadership and best practice in entrepreneurship, and use tools for project design that include ideation, problem framing, and pitching. The skills in this unit will assist you in developing your creative thinking, exploration, and experimentation methods, allowing you to experiment with project design and content for creative media.
Credit Points: 10

In this module you will learn to understand the user or target audience as part of your design process, through an exploration of UX (user experience) and UI (user interface) design. By applying the tools of UX design such as personas and user journeys and those of UI design such as prototyping, iterating and testing you will explore the creation of websites or apps that provide an ideal user experience.

Credit Points: 20

This unit will simulate being in a real-world studio. Your designs will respond to larger project briefs with multiple deliverables, and you will engage in teamwork. This means time management, communication and scheduling will be crucial. You will learn to consider projects strategically in terms of your client's brand or identity, and how these can be communicated visually and through associated text and structures. You are encouraged to explore and seek out new contemporary methods and tools for design and communication.

In this studio setting your facilitator will act as your project manager, producer, mentor and colleague.

This unit will be holistically assessed based on the criteria outlined in the unit guide. Teamwork, collaborative skills, and engagement with specific feedback processes are emphasised in this unit, as you further refine and reflect on a set of Transferable Skills.
102831A (2 TRIMESTERS)
094748M (3 TRIMESTERS)
Australian Qualifications Framework
AQF Level: 5
FULLY ACCREDITED BY TEQSA
We consult closely with industry professionals so you can expect a course that's highly relevant and equips you with sought-after skills.
DIPLOMA OF GRAPHIC DESIGN Career Outcomes
What jobs will this course lead me into?
Entry-level Graphic Designer

Entry-level Digital Designer

Entry-level Typographer

Graphic Design Production Assistant

Entry-level Digital Illustrator

Entry-level User Experience Designer

Entry-level User Interface Designer
Easy transition into the Bachelor of Design & Visual Communication
SAE Diploma, Associate and Bachelor Degrees are structured in an integrated course framework.
This means that when you complete an SAE Diploma of Graphic Design you will be awarded the maximum credit points available, providing you with the opportunity to seamlessly transition into the higher-level Associate and Bachelor degree qualifications if you choose to do so.
Course FAQs
Diplomas
A diploma is niche skills focussed. By undertaking an SAE diploma in animation, audio, film or games, you will develop foundation skills in these specific discipline areas. Students can use the SAE diploma as a pathway to degree level study at SAE and at other Australian tertiary institutions. Diplomas are a great option for people who haven't studied before and/or those looking for an alternative pathway to degree level studies.
Bachelor Degree
A bachelor degree offers a rigorous combination of niche skills combined with a greater depth and breadth of theoretical knowledge and analytical skills. This knowledge is applicable to both your creative media discipline and the professional world more broadly. A bachelor degree offers you an entry point to professional work, builds portable skills, and develops sustainable, lifelong learning. Key high learning skills are a requisite of the bachelor degree and graduate study options are available upon completion. Bachelor degrees are suitable for people looking to develop professional skills and knowledge and to build long-term, successful careers in their industry of choice. SAE bachelor degree courses attract Fee-Help for Australian students.
FEE‑HELP* is an Australian Government loan scheme that assists eligible fee paying students pay all or part of their tuition fees. It cannot be used for additional study costs such as accommodation or text books. The total amount of FEE‑HELP a person can use is known as the 'FEE‑HELP limit'.
Once a person begins using FEE‑HELP, the amount of FEE‑HELP they have left to use is known as their 'FEE‑HELP balance'.
* Terms and conditions apply. For the latest updates regarding FEE-HELP please refer to sae.edu.au/fees
CREDIT AND RECOGNITION OF PRIOR LEARNING

SAE may recognise your prior learning and may grant credit towards satisfying the requirements for a VET or a higher-level program. This is applied where previous learning is considered equivalent to the content and learning outcomes prescribed for units within the program.
For full details, please refer to SAE's policy on recognition of prior learning and credit transfers.
YOUR DREAM CAREER BEGINS NOW
With our industry connections, specialised teachers, and personalised education in world-class facilities, you can unleash your creative future with confidence.