Diploma of Creative Industries
START YOUR JOURNEY IN CREATIVE MEDIA
Adelaide,
Brisbane,
Byron Bay,
Melbourne,
Perth,
Sydney
Diploma of Creative Industries
International Fees
Indicative Total Course Fees*
$31,422 AUD
* The Indicative Total Course Fee reflects the students are charged fees on a per unit basis and the fee for a unit may increase.
2 Trimesters Full Time (Fast Track)
Complete your course faster by studying the course units over approximately 7 months (2 trimesters).
Diploma of Creative Industries
Course Durations
2 Trimesters Full Time (Fast Track)
Complete your course faster by studying the course units over approximately 7 months (2 trimesters).
3 Trimesters Full Time
Whilst still classified as a full-time study load, you will complete the course units over one year. (3 trimesters)
Part-time option available
If you want to take a little longer, that's ok too. We'll help you work out the best study load to suit your needs.
Note: Part-time is not available for international students.
---
We understand that things can change, so you'll have the flexibility to change your study load throughout your course if you need to.
Diploma of Creative Industries
Start Dates
Adelaide
September 2023

February 2024

May 2024
Brisbane
September 2023

February 2024

May 2024
Byron Bay
September 2023

February 2024

May 2024
Melbourne
September 2023

February 2024

May 2024
Perth
September 2023

February 2024

May 2024
Sydney
September 2023

February 2024

May 2024
Diploma of Creative Industries
Domestic Entry Requirements
Domestic students must meet one of the following criteria:
Completion of a Australian Senior Secondary Certificate of Education (QCE, WACE, HSC, SACE, etc) (like your Year 12 certificate or equivalent); OR
Completion of a Certificate III level qualification, or higher, issued under the Australian Qualifications Framework (AQF); OR
Diploma of Creative Industries
International Entry Requirements
International Entry Requirements
Minimum age requirements
International students seeking admission to SAE must be 18 years of age OR must be turning 18 during their first trimester of studies at SAE.
Academic requirements
Successful completion of secondary school studies (assessed as an equivalent of Australian Year 12 secondary studies). Minimum overall pass is required.
English language requirements
International English Language Testing System (IELTS): An overall score of 5.5 or higher with no individual band lower than 5.0 (only the Academic Test is accepted), OR
Test of English as a Foreign Language (TOEFL): 63 overall (internet-based test); OR
Pearson Test of English (PTE): Academic score of 36 or higher, OR
Completion of Year 12 English in an Australian secondary school or college or equivalent with a minimum result of "Satisfactory" or equivalent.
DIPLOMA OF CREATIVE INDUSTRIES
Bring together multiple creative passions by studying units in film, music, audio, animation, design, virtual or augmented reality, or game development. The Diploma of Creative Industries allows you to combine your skills across various media and creative technologies, preparing you for a diverse career pathway.
Alongside specialist creative skills in multiple disciplines you will craft your communication, project management and entrepreneurial abilities, learning to think creatively and technically within a complex industry ecosystem. You'll be ready for 21st century industry roles using modern creative business concepts and strategies.
In this course you will engage in projects applying skills learned throughout the course to real life creative scenarios. Through collaborative project design, development, and management you will devise inventive creative solutions, applying ideas and content that uses mixed media and technologies.
Our diploma has been purpose built to blend digital online delivery and face-to-face time with expert mentors across the country, along with time on the latest industry standard tools and software. To complement your technical skills, you will graduate with employability skills, project management skills, industry and business understanding and scholarly techniques for higher education.
Upon completion, you will be eligible for up to 80 credit points towards the Bachelor of Creative Industries.
Career Outcomes
What jobs will this course lead me into?
Content producer

Digital project officer

Digital coordinator

Digital content creator

Arts administrator

Creative Project Manager

Digital Media Project Manager

Entrepreneur
Enrico Leasa
"I always had the dream of working for a large studio like ILM, Pixar or Dreamworks, so to actually be a part of these huge projects now is amazing."
SAE Alumni | Current Job: Layout artist at Industrial Light & Magic
Jessica Ameduri
"Studying at SAE helped me to put the fears of failure behind me. SAE provides practical subjects where you are given a brief for a film and then you each get a role as you would in the industry."
SAE Alumni | Current Job: Producer
Sarah Khalaf
"I have always wanted to be a film director, I worked on film sets and TV sets as an assistant director for several years, and after joining for my bachelor's degree I focused more on production and a future working as a producer."
SAE Alumni | Current Job: TV Producer
Why study a Diploma of Creative Industries at SAE?
Craft your communication, project management and entrepreneurial abilities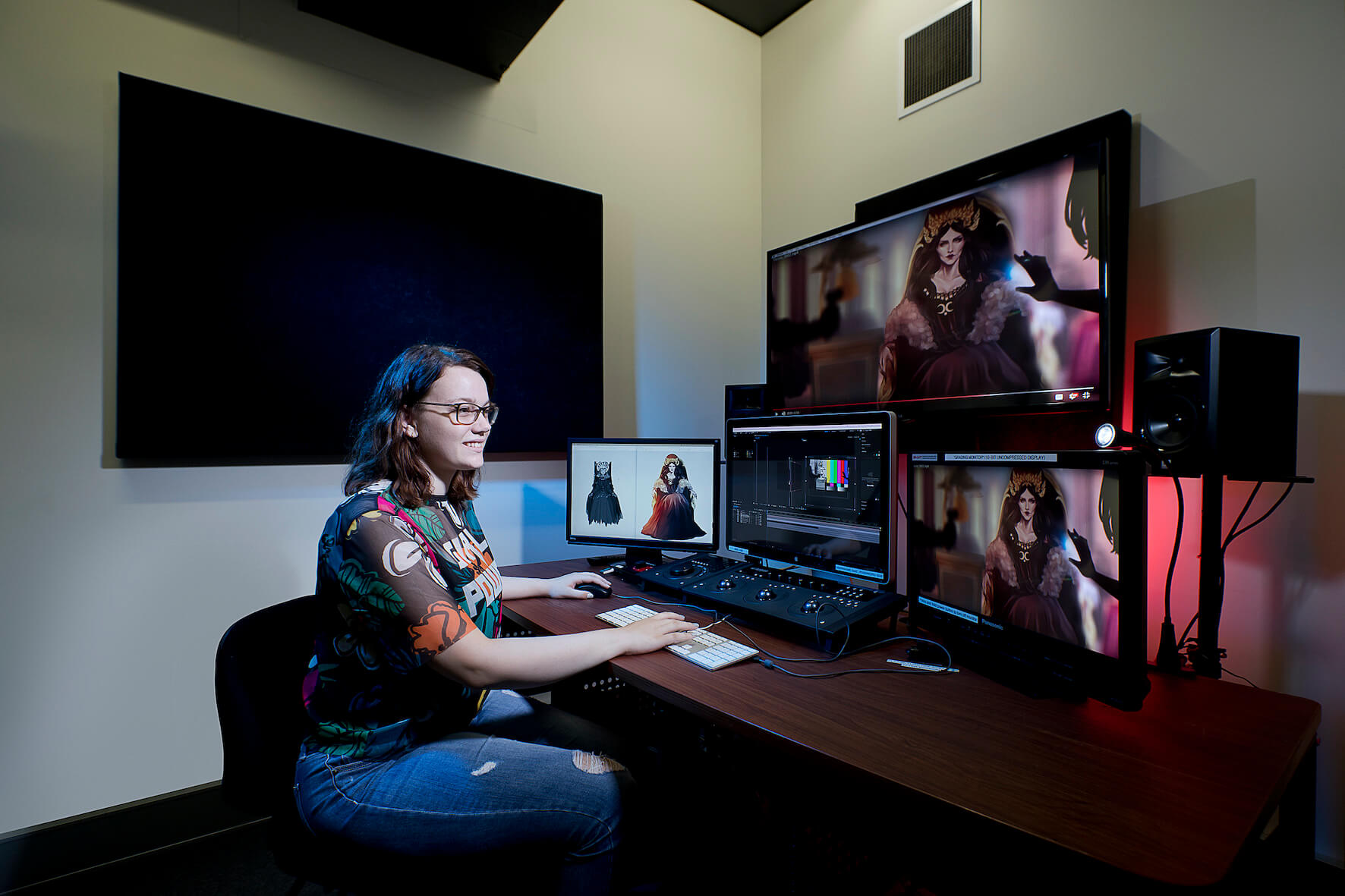 Combine your skills across multiple media and creative technologies
Devise innovative creative solutions, apply ideas and content using mixed media and technologies
Obtain a Certificate 4 in Project Management
Entrepreneurial skills
Learn the foundation concepts in entrepreneurship and creative problem-solving.
Technical skills in two disciplines
Hone your craft on two core disciplines, combining your creative passions through elective units in film, audio, music, animation, design, AR/VR, and game development.
Communication skills
Enhance your written and multimedia communication, learn how to pitch your concepts, connecting to the media and diverse audiences.
Project management & Collaboration
Develop the principles and strategies used to excel in project management. Practice remote collaboration through creative industries projects.
YOUR CREATIVE INDUSTRIES CAREER BEGINS NOW
You'll explore
Project Management
Creative Production & Process
Entrepreneurship
Digital Media
Remote Practice
Technical skills relevant to chosen disciplines
Course Structure
'Complete your course faster by studying the 8 units in as little as 7 months (2 trimesters).
Core Units
Develop the essential technical skills and the knowledge required to collaborate with other creative media students and professionals.
Credit points: 10

The skills and knowledge that you will acquire in this unit will assist you in understanding and developing the core communication skills used by entrepreneurs and practitioners across the creative industries.

Credit points: 10

This unit will introduce you to the mindset and skillset of the creative entrepreneur, and transform your approach to problem-solving. You will analyse historical and contemporary models of leadership and best practice in entrepreneurship, and use tools for project design that include ideation, problem framing, and pitching. The skills in this unit will assist you in developing your creative thinking, exploration, and experimentation methods, allowing you to experiment with project design and content for creative media.
Credit points: 10

This unit builds on project design elements introduced in the first trimester and focuses on core principles in project management. In this unit, you will act as project manager for your work or collaborate with others to develop robust systems and processes for projects. Through these practical projects, you will understand basic project management concepts allowing you to plan, initiate and execute ideas effectively.

To complement these concepts you will be introduced to core principles of ownership, copyright, and Intellectual Property (IP) as related to the Creative Industries, and how you can use marketing concepts involving storytelling & branding to connect ideas with audiences.
Credit points: 10

As a practice, drawing provides a core skill set for the expression of both concept and form. This unit introduces you to the concepts and methodologies of drawing using a variety of media with an emphasis on drawing from life, including anatomical studies and perspective techniques for environment and character construction.

The unit is an introduction to the general practice of drawing and rendering and specifically helps to scaffold further learning through support for developing sketch-based visual production skills & knowledge.
Credit points: 10

Take a practical first look at modeling, lighting, shading, animation, and rendering to gain a holistic, foundational understanding of computer graphics.

This unit will involve using industry-standard software such as Autodesk 3Ds Max, Maya, and Blender. The practical and theoretical knowledge of 3D production pipelines acquired in this unit will act as a foundation for successive animation units.
Credit points: 10

As the name suggests this unit provides you with an introduction to animation. You will apply the theoretical underpinnings of animation processes via a range of practical explorations and critical analyses. This will provide you with a solid understanding of animation principles and methods that will form the foundation of successive animation units.
Credit points: 10

Establish a basic knowledge of the principles of sound, foundational acoustics, human hearing, perception of sound and the range of technical terms related to audio. You'll sonically assess a listening environment and be able to communicate your ideas using industry terminology.

Potential projects:
Improve the acoustic properties of a home studio setup. Using technology analyse the sound of different rooms.
Credit points: 20

Gain the audio recording skills required to operate studio equipment and a Digital Audio Workstation (DAW) system by undertaking simple recording and mixing projects.

You'll be able to demonstrate an understanding of session planning, studio etiquette, microphone placement, signal flow, multi-track recording and signal processing (EQ, filters and dynamics processing) and be able to edit your session in preparation for mixdown.

Potential projects: Develop a plan for a professional recording session. Analyse sound recordings and create multiple mixes using balance, pan, equalisation, automation and FX processing.
Credit points: 10

In this unit you will learn about the principles of design through creating vector graphics in the form of motifs, pictorial marks and logos using Adobe Illustrator and other tools. Project briefs and activities in this unit introduce the principles of design; these are visual rules that can be applied in the creation of any image to enhance their impact, attractiveness and ability to communicate. The principles of design are useful and essential to your ongoing design practice

Credit points: 10

In this unit you will learn about illustration and the creative and technical production of digital images using photoshop and other tools. Working by hand and digitally you will explore a range of drawing techniques and tools including processes of iteration and refinement. You will investigate visual storytelling through the development of a series of images. Storytelling through your creative practice is essential to your ongoing design practice.
Credit points: 10

In this module you will learn to understand the user or target audience as part of your design process, through an exploration of UX (user experience) and UI (user interface) design. By applying the tools of UX design such as personas and user journeys and those of UI design such as prototyping, iterating and testing you will explore the creation of websites or apps that provide an ideal user experience.

Credit points: 10

In this unit you will learn about designing page layouts for print through the combination of images and type. Your work will include the design of posters, brochures and flyers. You will investigate historical design styles; analysing, adapting and applying these styles in your work. You will explore the typographic art of arranging letters and words to make copy easy to read, visually appealing, and stylistically appropriate. Knowing how to use typography and layout effectively is essential to your ongoing design practice.
Credit points: 10

In this unit, you will be introduced to the principles of storytelling for the screen in the production of a short dramatic screenplay. Theoretical approaches to plot, structure, character, theme and genre will be explored, and applied to a range of screenplay development tools such as synopsis, treatment and character breakdowns. Through the analysis of a diverse range of mostly short films and the application of theoretical knowledge, you will develop the skills to create engaging character arcs and a satisfying story structure.

You will learn the techniques required to write effective dialogue and scene descriptions. As you draft your final screenplay, you will need to engage with industry-standard formatting and software programs. Feedback processes are essential in the development of engaging stories, and you are expected to engage with feedback from your lecturer and colleagues throughout the trimester.
Credit points: 10

In this unit, you will be introduced to the craft of filmmaking through participation in practical film shoots. An introduction to camera, lighting and sound equipment will be supported by a study of the fundamentals of frame composition and cinematography. Key roles and responsibilities of a working film crew as well as production processes and protocols are covered, including workplace health and safety. Familiarity with the equipment and its safe assembly and use is as important in this subject as the technical and creative elements.
Credit points: 10

This unit aims to instil a basic working knowledge of the structures, aesthetics and technologies involved in digital post-production. There is a particular emphasis on the editing process, as well as a general introduction to audio mixing, titling, colour grading and authoring processes within an industry-level non-linear editing tool.

Editing techniques and approaches vary between different mediums and this unit focuses on both documentary and drama workflows and file management protocols. Effective communication of narrative is the main focus of the unit, and you will learn to edit for narrative clarity, performance, subtext and dramatic effect. Historical and contemporary perspectives on montage theory and continuity editing theory will be explored to broaden your understanding and approach to the art of editing.

Credit points: 10

This unit aims to instil a working knowledge of the structures, aesthetics and technologies involved in digital post-production visuals and title design. There is a particular emphasis on compositing and manipulating the visual content within the frame, and the implementation of titles to footage. Influential cinematic, art and graphic styles, movements and techniques are analysed to give you a foundation in post-production visual aesthetics. The unit also deals with workflow, project management and interpersonal skills needed to export footage for a variety of delivery mediums and collaborating with creative clients.
Credit points: 10

Game scripting is a common method of controlling the behaviour and sequencing of events and interactions within a game or scenario. Scripting can be thought of as a discrete language that uses principles of mathematics, combined with rules of syntax and patterns, to provide instructions for a computer to follow.
In this unit, you will implement a range of basic game functionality by utilising data manipulation, formulas, object creation, defining of behaviours, and working with event systems. You will also build an awareness of how to use these elements within common game scripting languages and environments.

Potential projects:
Build a simple game from scratch using an existing game engine such as Unity with C#.
Credit points: 20

In order to design and create games we need to be able to understand game systems and how they generate player experience. In this unit You'll break down existing games to identify and describe core elements and interactions of games. You will also engage with mathematical principles to inform and justify game design choices. This will involve both manipulating existing games and prototyping original game concepts and systems to generate player experiences.

Potential projects:
Through a process of iteration and testing, develop an initial modification of an existing game. You will then research and develop this concept into a suitably unique and standalone gameplay experience.
Credit points: 10

In order to design effective virtual reality experiences, you must understand the unique aspects of virtual reality. In this unit, you will identify and describe the core elements of virtual reality experience design. You will create prototypes that demonstrate these principles and observe and reflect on the results. You will work together in teams to produce prototypes and will be expected to document and reflect on the experience.
Credit points: 10

Managing Software Projects covers the key skills and knowledge required to work within software development projects as a paraprofessional. The unit simulates a real world creative media project in which you'll work under the supervision of more senior technical and executive staff, with a simulated client relationship.
Credit points: 10

High performance mobile computing technology, mobile sensor technologies, and modern real time rendering engines are facilitating a new wave of augmented reality applications in the market. This unit aims to provide you with the knowledge and experience to utilise these tools to understand augmented reality solutions designed for a wide variety of markets. Using a range of frameworks and prototype applications you'll apply augmented reality concepts and technologies to a range of needs. You will have an ability to understand and design for user embodiment of virtual and physical worlds.
Credit Points: 10

This unit will help you develop the foundational skills to analyse a range of contemporary music styles, compose music effectively, and communicate musical concepts in different forms.

You will learn to identify music theory concepts including rhythm, harmony, melody, notation, structure, form, texture, and genre, and apply these concepts in your own analyses and creative work.
Credit points: 20

This unit introduces you to the core skills and concepts of music production. Across a range of projects, you will develop skills around recording, sampling, sequencing, and synthesis. You will develop your abilities across contemporary tools and technologies to produce original music in a DAW using a combination of MIDI and audio manipulation. You will also learn how to produce a variety of sounds to satisfy a brief and add effects to enhance the sonic qualities of your productions.
Credit points: 10

Games development uses assets from a range of creative sources including 3D models for environments and objects and 2D assets for menus and backgrounds. In this unit You'll gain an understanding of the production and implementation of these types of assets.

You'll gain practical experience with 3D modelling, lighting, shading, animation and rendering to gain a foundational understanding of a range computer graphics concepts. You will also reflect on the theoretical principles behind the development of computer graphics through critical analysis.
108439E (2 TRIMESTERS)
108440A (3 TRIMESTERS)
Australian Qualification Framework
AQF LEVEL: 5
FULLY ACCREDITED BY SAE
We consult closely with industry professionals so you can expect a course that's highly relevant and equips you with sought-after skills. Some of our industry partners include:
SAE has three intakes per year: February, June and September. Short courses and certificates courses may have different intake timings. View our academic calendar for trimester start dates or contact your campus for further information.
FEE‑HELP* is an Australian Government loan scheme that assists eligible fee paying students pay all or part of their tuition fees. It cannot be used for additional study costs such as accommodation or text books. The total amount of FEE‑HELP a person can use is known as the 'FEE‑HELP limit'.
Once a person begins using FEE‑HELP, the amount of FEE‑HELP they have left to use is known as their 'FEE‑HELP balance'.
* Terms and conditions apply. For the latest updates regarding FEE-HELP please refer to sae.edu.au/fees
CREDIT AND RECOGNITION OF PRIOR LEARNING


SAE may recognise your prior learning and may grant credit towards satisfying the requirements for a higher-level program. This is applied where previous learning is considered equivalent to the content and learning outcomes prescribed for units within the program.
For full details, please refer to SAE's policy on recognition of prior learning and credit transfers.
Easy transition into the Bachelor Course
SAE Diploma, Associate and Bachelor Degrees are structured in an integrated course framework.
This means that when you complete an SAE Diploma you will be awarded the maximum credit points available, providing you with the opportunity to seamlessly transition into the higher-level Associate and Bachelor degree qualifications if you choose to do so.
YOUR DREAM CAREER BEGINS NOW
With our industry connections, specialised teachers, and personalised education in world-class facilities, you can unleash your creative future with confidence.