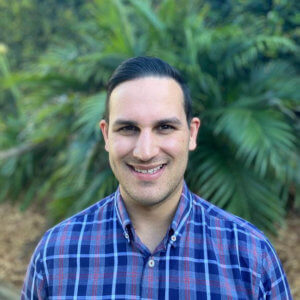 By Barry de Silva
Public Relations Manager
Hi David, can you share why you studied at SAE?
My instincts told me that I needed to up my audio skills if I was going to go into broadcast journalism. I think at the time a mutual friend mentioned that SAE was a good place to study, so I went and did the Diploma of Audio Engineering at the Adelaide campus. Studying at SAE gave me a real appreciation for the audio aspect of the industry, down to the detail of how commercials were mixed and recorded, and some of the other intricacies of audio engineering.
How did your new skills support your journey?
Shortly after I graduated SAE, I got the chance to fill in at 5AD in Adelaide and mix their radio commercials. I remember those skills I learnt at SAE being vital, because I don't think I could have done that job if I hadn't understood the principles of audio engineering.
You've got an outstanding CV in sports broadcasting, what motivated you to explore that as a career?
Initially, I think it was just curiosity to find out where my interests were. I always had a passion to be on air, but that was hard during the early part of my career as I faced a lot of rejection, like a lot of young people do, when they first start out. Something told me to keep pushing and focus more on sport, because I love all types of sport. I was also drawn to the integrity of public broadcasting, so that's how it all began really.
You've commentated on some of the biggest events including the FIFA World Cup and the Olympic Games, what are the challenges of that?
I'd say when you're broadcasting a world event, like the men's World Cup in Qatar, there's a responsibility of talking to a national audience, with the added context of working for SBS. Your employer has certain expectations, and from a personal perspective I have my own expectations.
David with Socceroos legend, Harry Kewell during the 2022 FIFA World Cup
How do you prepare for that?
Having a multicultural background has helped me tap into the requirements of getting the narrative, tone and editorial slant of the commentary right. When you're commentating on Australia, you have to be aware of the nation Australia is playing against, as often there will be an expat community here, and with that, there needs to be a fair balance for viewers.
You can't always get it right, but just taking into consideration all those different aspects by being accurate and entertaining. It's important to realise it's also a commentary for television and not for radio. I always try to let the commentary breathe, and that's simply by complementing what's happening on screen.
When you're commentating on games for Australia, how do you remain objective?
I think when you're doing a national team match of any sport, you're dealing with a lot of passion and national pride. When you're commentating, that passion naturally comes through, but what I try not to do is make it biased to the point that the other team doesn't exist. SBS is the perfect platform for that because it's broadcasting that aims to be impartial, but also tries to impart a sense of pride and passion about the national shirt. It's a mix that's not always easy to get right, but that's what I try to do.
What levels of research and preparation do you do before a game or major event?
With the men's World Cup in Qatar, I watched all the friendlies and qualifiers for the Australian team in the lead up to the tournament. Part of that is about understanding where the players play for their clubs, some of the narrative around their selection, the backgrounds of their families, and some of the adversity they've had to face to get to the point of representing their country.
Knowing the historical context of the Socceroos is important too. I've been fortunate because I've commentated on the last four World Cups for SBS, and was a reporter for SBS in 1998, and did some content for ESPN in 2006 in Germany. Having worked in the industry for a long time, you get to know lots of fellow journalists, so for example when Australia played France in Qatar, I exchanged notes with my French colleagues, and I'd talk to them about the narrative of the French team, and similarly I did the same for the other matches.
What do you think sets apart the average commentators from the great ones?
Martin Tyler is certainly one of the greatest English language commentators of any sport I've worked with. What sets him apart is his ability to capture a moment. He's able to understand the history of a team and a player, and encapsulates that perfectly. Martin is a real artist – he's a wordsmith.
How do you take criticism and use that for your future performances?
I've never been one to go looking for negative criticism on social media. At previous World Cups, I know a minority weren't overly thrilled about my presence on commentary, and that's hard to not take personally. After I'd got over the initial shock that a small group of people can be deeply unkind, I learnt amongst all the comments there could be a few that had good feedback, and I always tried to take that on board to better myself and improve where possible.
What's been your most memorable moment as a commentator?
I'd probably say it was the 2022 World Cup in Qatar, because I don't think anybody in their wildest dreams expected Australia to do what they did there, and push the eventual world champions Argentina so close.
Which stars have you enjoyed interviewing?
I've had the chance to interview Franz Beckenbauer and Lionel Messi, and over the years there have been Australian legends like Mark Viduka. During my life as a commentator I've been fortunate to work with Harry Kewell and Craig Moore, and they're powerful voices in Australian football.
I've never been overawed by interviewing anybody really, I always just see them as human beings that have done remarkable things in their chosen fields, but I always try to get them to express what makes them so unique.
With the FIFA Women's World Cup coming up, how do you rate the Matildas' chances?
I think it will be difficult for them to win it, but their best chance is to finish top of their group and avoid England in the round of 16. If they do that, they have a very good chance of progressing to at least to the semi-finals. On their day the Matildas can beat any team in the world, as they showed when they beat England in a friendly recently. I don't think everyone in Australia understands how big this World Cup will be. It's going to be the biggest event since the Sydney Olympics in 2000.
Tags
Adelaide
Alumni
Audio
Graduate