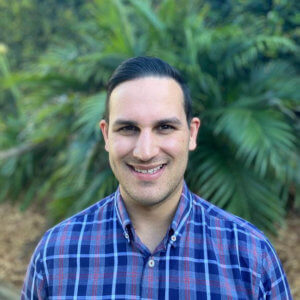 By Barry de Silva
National Communications Manager
For creative students dreaming of a future in the industry, it also means there's a clear pathway for a career in their hometown, which wasn't previously possible.
Cumulus Visual Effects was founded by William Gammon, who's also the brains behind Byron Studios, and has gone on to provide premium effects for an array of international television shows and films including Peter Rabbit, National Geographic's Mars, and Lambs of God; right here in Byron Bay. "The Byron film industry is renowned around the world for the quality of its talent and the passion for filmmaking," William said.
"The local industry is responding to the global demand, and excitingly this means that the industry professionals of tomorrow don't need to move abroad to make it as filmmakers; they can hone their craft right here in Byron."
One up-and-coming visual effects professional is SAE's Phoenix Batchelor, who was recently selected to sharpen his skills at Cumulus, as part of his Bachelor of Animation degree at SAE Byron Bay.
"The experience at Cumulus really opened my mind. I love film, and getting the chance to do what I love made me really excited to learn more," Phoenix said.
"Knowing I may have the opportunity to work on huge international films and shows right here in Byron when I graduate, is awesome."
SAE National Manager Careers and Enterprise, Lisa O'Meara remarked that studios like Cumulus provide valuable opportunities for students.
"Film studios like Cumulus offer SAE students the chance to learn at an exemplary film studio, as well as connect with industry professionals which in turn increases students' understanding of the industry and enhances their employability," Lisa commented.
"With the Federal Government investing $400 million in the screen industry, and Byron Studios planning to offer 1,000 new jobs in the region over the next five years, the tools and skills that SAE students learn through industry placements like Cumulus will get them real-world-ready; hopefully with the option to stay locally."