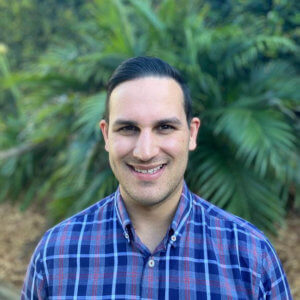 By Barry de Silva
National Communications Manager
Before moving to SAE Byron Bay at the start of the year, Holly was a Schools Engagement Officer at SAE Sydney, where she got the chance to inspire the creatives of tomorrow. It's the people at the campus, she said, that motivated her. "Everyone makes it feel like a big family – it's such an awesome creative environment, which makes you want to develop everyday," Holly said.
Last year, Sydney spent over 100 days in lockdown. With a Masters degree in social work and experience as a mental health practitioner earlier in her career, Holly has an appreciation for looking after her mental health.
"It's so important, especially when we're disconnected from loved ones. I've learned a lot of techniques to keep myself on track, like checking in with friends and family, because it can be difficult otherwise."
"It just comes down to being kind to yourself and acknowledging your thoughts and feelings. And when you have a down day, do something that fuels your soul; I like staying creative in some way."
One of the ways Holly kept in touch with her creativity is through her acting. The international improvisation group, Long Distance Relationship, kept Holly connected with her passion and friends around the world. "It all started when I successfully auditioned for the Hollywood Immersive acting program in Los Angeles called Hollywood Immersive back in 2019."
"I got to meet some incredible people from all over the globe through the Hollywood Immersive program, and we realised that we got on so well, so we became great friends and formed the group, Long Distance Relationship.
"When the pandemic first started we met weekly via Zoom. We now do a show once a month, and we train every other week – with other groups from around the world joining us from time to time."
Since the pandemic, Holly has been taking acting classes via Zoom with Hollywood Immersive Head Acting Director, Michael Petted. Michael, who was a teacher at the Beverly Hills playhouse for 11 years, and is known for his roles in shows like American Horror Story and New Girl, said he can relate to the current situation Sydney finds itself in. "Over the last year we've been more or less locked in our homes in Los Angeles, so it was a real necessity to keep the class going," Michael commented.
"Being creative, you need to have an outlet, and so the group has become like a little sanctuary for everybody."
"I've been really impressed with Holly. She's interested in taking on different characters and has so much empathy for all types of people. From the first time we started working together, I got the impression she's involved in acting for the right reasons."
Aside from acting, Holly has continued to feed her creativity by purchasing a guitar and learning Brazillian dance during the lockdown. "I was listening to Live Aid and was inspired to learn how to play the guitar – I now can't stop playing," Holly admits.
"And now I'm learning Brazillian dance over Zoom, by turning my room into a disco – who would have thought that when the pandemic started!"