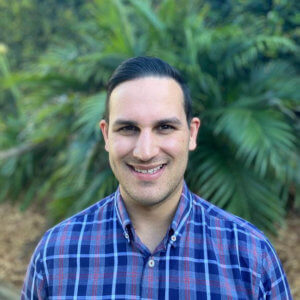 By Barry de Silva
Public Relations Manager
Up until 2021, Tim was freelancing, teaching guitar, bass and keyboard. With a desire to expand his career, he enrolled in SAE's MCI degree, allowing him to study online and pursue his passion for audio engineering.
"I was exploring different postgraduate study options, and I found SAE to be the best available," Tim shared. "Being online, the course was flexible around my lifestyle and offered a range of options to study audio units on producing, mastering and spatial audio."
Since completing his postgraduate studies, Tim has taken on a music teacher role at Pacific Hills Christian School, offering audio engineering and music production to students, while also growing a new business as an audio engineer at studios around Sydney.
"I record everything – from bands and sound effects, to podcasts and audiobooks – basically anything that needs a microphone," he laughs. "Over the last year I've expanded into doing all areas of audio engineering – which includes recording, producing and mastering – it has been really satisfying professionally."
Tim Hacquoil
Looking to the future, Tim is keen to build on his newfound audio engineering career, and is excited to pursue new creative pathways, as a way of diversifying his skillset as a freelancer.
"I'm really fascinated by video game audio, so I'd love to get into that at some point," Tim enthused. "I'm in no hurry, so long as I'm a part of projects that involve music, games, audio books or anything with an audio stream, I'll be very happy.
"Long-term, I'd love to be involved in teaching and lecturing audio in a higher education environment – maybe I'll be back at SAE!"
Tags
Career
Creative Industries
Graduate
MCI