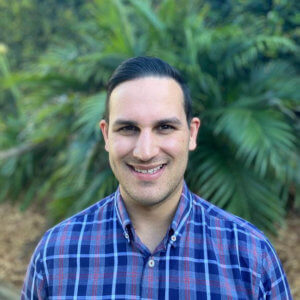 By Barry de Silva
Public Relations Manager
We caught up with Adam to chat about his creative journey from graduate to company owner, how he pivoted his business model during the COVID-19 pandemic, and why he thinks live streaming is here to stay.
After graduating with a Bachelor of Film degree from SAE Sydney in 2016, Adam wasn't rushing to enter the industry and work for a production company or film studio.
The birth of Pixflix
"I wasn't interested in working on film or on TV sets like some of my contemporaries at SAE, and that's when I thought about marketing myself as a 'triple threat' – a cinematographer, director and producer – Pixflix Productions was born from there."
The first five years of Pixflix involved Adam predominantly filming weddings, musicals, and dance concerts.
"I learnt a lot of the foundational skills about filmmaking at SAE, which gave me that core knowledge, but actually doing it in the real world was a big learning experience for me, because filming theatre and live performance is completely different to shooting anything else," he said
You're dealing with low light and on occasions very bright light too, so you have to understand how to adjust the focus and exposure on the fly; that's a skill in itself."
Pivoting his business
Like a lot of creatives, when the pandemic began in 2020, Adam had to adapt his business model to the changing landscape.
"One of the first things I started to do was learn more about live streaming, and that's now a major part of what I do now," Adam said.
"Live streaming is another major skill, as you have a lot of elements at play. One of my favourite gigs, during the pandemic, was a two and half hour live concert for a musical society in the Blue Mountains, where we streamed to their Facebook page – we turned a warehouse into a mini TV set, and had eight cameras set up – it was awesome."
Is live streaming here to stay?
Even with COVID-19 restrictions easing, Adam believes live streaming will continue to be a lucrative service offering for production companies.
"There is still a wariness from the public to visit venues where there could be crowds of people, so I think the live streaming of events is going to continue to be the norm for years to come."
The future of Pixflix
Like any business owner, Adam admitted that he has had his own doubts at times, which has helped shape him as a creative.
"As creatives, we're sensitive souls. We wear our hearts on our sleeves, and when we put something out in the world that doesn't get engagement, that can't be upsetting. That's why being adaptable and having the ability to pivot – which I was able to do during the pandemic – is really important," he said.
Looking to the future, Adam is continuing to build on a dedicated and personalised service for current and prospective clients.
"I work hard at building strong relationships with my clients. It's about connecting with businesses to identify their target audience and what platforms are the best for them. Video is a powerful tool and I like to offer a bespoke set of services they can't get anywhere else."
Tags
Alumni
Film
Graduate
Sydney