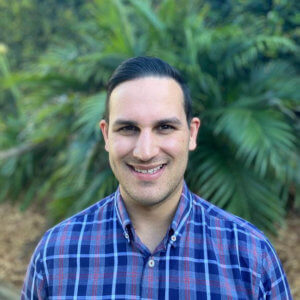 By Barry de Silva
Public Relations Manager
"The cross pollination of my final project was really valuable. Getting to work with animation students on 3D stuff was awesome - SAE is great for that."
During the course of studying for his degree, Thomas got the chance to intern at Studio Field. "I was really grateful for the opportunity at Studio Field, but unfortunately there wasn't a permanent job available there, so I started to freelance after graduating."
During a holiday to the Isle of Man, Thomas picked up some work with finance company, Capital International, becoming their first in-house graphic designer. That holiday turned into 18 months working at Capital, before Thomas considered where his design career may take him next.
After freelancing at the Graphic Design Festival in Scotland – which a friend from Perth connected him with – Thomas secured a role at automotive content and experience agency, Foxtrot Papa, who work with the likes of Ford, Jaguar and Land Rover.
"I worked a lot on the Ford Kuga, and when that was getting released we'd brand the hotel, and fly a select number of journalists for the launch.
"Likewise, when I worked on the Ford Puma, we had a car looking like it was floating on water, when in reality it was sitting in 3mm of water – that was a fun project to work on."
As the COVID-19 pandemic started to rage across the globe, Thomas returned to Australia to visit family, during which time he was made redundant at Foxtrot Papa.
"After I was made redundant, I was pondering whether to even return to London. Once I made the decision to head back, I looked at sharpening my skills in motion design to enhance my employability."
After a short stint working with brands like Jacob's Creek and Havana Club for Pernod Ricard, Thomas got his big break as a Digital Motion Designer at adidas.
"The fact I was working on motion design everyday and posting it on Instagram, certainly helped me get the job with adidas - people can see the creative passion in your work.
Since starting at the German sports brand, Thomas added he's already learnt so much. "The biggest thing is just how organised and automated files like banners need to be. When you're working on a campaign, there might be 70 different assets or touch points. By automating some of the processes, I may only need to design 17 of them in Photoshop.
"I'm really enjoying it as I get to cover sports that fit with my interests; skateboarding and football. Being part of the team working on the digital assets for projects like FIFA 22 and Messi's new boot has been awesome."
And for those creatives who want to follow in Thomas' footsteps and make their mark, he had some sound advice.
"Being a genuine, kind person goes a long way. Even if you're not the number one designer, design agencies will hire you because they like you and you fit with their culture."
"Be humble, keen, and willing to learn. Go to networking events, talk to different people – you'll be surprised who you meet. Always be polite, as you could end up talking to a director of a company and not even know it."
SAE's Design and Interactive Technologies Program Committee Chair, Rachael Shea explained how valuable graphic designers like Thomas are to agencies and brands.
"Effective branding can be worth millions of dollars to businesses. Graduates like Thomas illustrate that even during the pandemic, quality graphic designers are highly sought after," Rachael stated.
"With over 90 per cent of graphic designers being freelance, this will continue to rise as we come out of the pandemic, with more designers taking advantage of the globalised career opportunities available."
Tags
Alumni
Bachelor
Career
Design
Graduate
Perth
saecrew