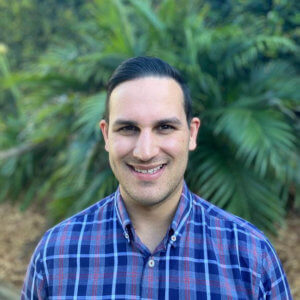 By Barry de Silva
Public Relations Manager
Cameron, who's studying a Bachelor of Audio at SAE Byron Bay, relocated to the region from Brighton, South Australia after receiving a Destination Australia scholarship.
The connection with the band started out in 2020 when Cameron introduced himself to Wolfmother's front man, Andrew Stockdale at his solo gig at Reasonater Music in Ballina, Northern NSW.
"After talking to Andrew at Reasonater at the beginning of this year, I approached him again at a cafe in Byron when he was having breakfast, and he said he was looking to record some new stuff.
"I said I was an audio engineer, and was willing to work for free to learn from him. I gave him my number, and he contacted me and said he would pay me, even though I was only a student that's still learning their trade."
"I'm really grateful for the opportunity Andrew gave me. A lot of other people my age can only dream of working with a band of the calibre of Wolfmother."
Cameron would later meet Andrew at a recording studio at his house where they would begin re-recording existing demos for Rock Out.
"We started with the drums, and at that stage I probably didn't realise he was going to use it for the final cut of the album."
Wolfmother's front man, Andrew Stockdale revealed why he was interested in getting Cameron to work on the album.
Andrew Stockdale
"The younger generation now are a lot quicker to get things done. With Cameron, he was able to mix and master the album in a short period of time, which was really beneficial for us so we could get the album out there.
"I was in touch with a few labels that were interested in releasing it, but in the end I decided to use a digital aggregator. I think that's more powerful as you can regularly share music, without needing a big setup."
SAE Chair for Audio, Gareth Parton congratulated Cameron on the opportunity to learn and work with Wolfmother.
"It's excellent to see one of our students getting the chance to work with such an iconic Australian band. SAE is proud to produce another industry practitioner, using the recording, mixing and mastering skills they learnt studying for their Bachelor of Audio degree."