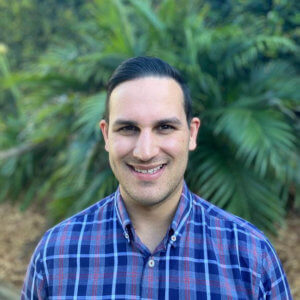 By Barry de Silva
Public Relations Manager
Unlocking new opportunities
Having previously forged his path as a carpenter and chef, Ben said those formative years shaped him into the creative he is today. This included forming psychedelic rock band, The Dharma Chain, which was founded at SAE, and has continued to thrive against the vibrant music scene of Berlin.
"SAE has been a key to unlocking countless opportunities for me, it's been truly unbelievable," Ben reflected. Ben's association with his SAE Byron Bay course coordinator, Dirk Terrill, paved the way for a seamless transition to SAE Berlin.
"At SAE we truly are a global network of creatives," Dirk enthused. "Ben had a very clear goal of what he wanted to achieve, and as an educator I was very happy to help facilitate his transition from our Byron to Berlin campuses."
Under the guidance of SAE Berlin's Fabricius Clavee, Ben found himself equipped with the same resources and support he would have enjoyed at his home campus.
Building a network
Since graduating, Ben has engaged with the Berlin music scene. From interning at renowned studios like Funkhaus Studios to his involvement with The Dharma Chain, Ben's commitment to music intertwined harmoniously with his newfound skills as an audio engineer.
Reflecting on his experiences with the band, Ben emphasised the art of networking as a cornerstone of their success. "In Berlin, we had to rebuild our network from scratch," Ben explained. "Opportunities don't simply materialise, you have to cultivate and nurture relationships within the music industry."
Exploring Berlin
Ben's immersion in Berlin's music scene has also led him to exploring new avenues. Through his love for live sound engineering, he has discovered a knack for orchestrating soundscapes for live events at Privat Club, and Club Dervisionaire, and has since ventured into the realm of sound engineering for films.
"I really enjoy doing live sound, and the money is good. I started to network at one of the clubs, and found out about other opportunities through online forums and Facebook groups, which included doing sound engineering for a number of German feature films."
Overcoming language barriers with grace, Ben has found Berlin locals to be extremely adept at speaking English, further affirming his audio engineering career in the German capital.
"The language barrier doesn't seem to have been a problem in Berlin. I think if I was to be in a more regional area of the country, there would certainly be challenges, but so far I have found German people to be very comfortable communicating in English."
How to stand out
For aspiring high school students eyeing a future in live sound or feature film sound engineering, Ben offered sage advice.
"The audio engineering fundamentals you learn at somewhere like SAE are certainly vital for one's survival in the industry, but I would also put a lot of weight in being a good person to work with. Your distinct personality, along with your collaborative and supportive traits, will set you apart."
Tags
Alumni
Audio
Audio Engineering
Bachelor
Byron Bay