Diploma of 3D Animation Production
Brisbane,
Byron Bay,
Melbourne,
Perth,
Sydney
Diploma of 3D Animation Production
International Fees
Indicative Total Course Fees*
$28,040 AUD
* The Indicative Total Course Fee reflects the students are charged fees on a per unit basis and the fee for a unit may increase.
2 Trimesters Full Time (Fast Track)
Complete your course faster by studying the course units over approximately 7 months (2 trimesters).
Diploma of 3D Animation Production
Course Durations
2 Trimesters Full Time (Fast Track)
Complete your course faster by studying the course units over approximately 7 months (2 trimesters).
3 Trimesters Full Time
Whilst still classified as a full-time study load, you will complete the course units over one year. (3 trimesters)
Part-time option available
If you want to take a little longer, that's ok too. We'll help you work out the best study load to suit your needs.
Note: Part-time is not available for international students.
---
We understand that things can change, so you'll have the flexibility to change your study load throughout your course if you need to.
Diploma of 3D Animation Production
Start Dates
Brisbane
May 2022

September 2022

July 2022
Byron Bay
May 2022

September 2022

February 2023
Melbourne
May 2022

September 2022

February 2023
Perth
May 2022

September 2022

February 2023
Sydney
May 2022

September 2022

February 2023
Diploma of 3D Animation Production
Domestic Entry Requirements
Domestic students must meet one of the following criteria:
Completion of an Australian Senior Secondary Certificate of Education (your Year 12 certificate) or equivalent; OR
Completion of a Certificate IV qualification or higher (for example a TAFE Certificate IV); OR

Diploma of 3D Animation Production
International Entry Requirements
International Entry Requirements
Minimum age requirements
International students seeking admission to SAE must be at least 18 years of age prior to the commencement of their study.
Academic requirements
Successful completion of secondary school studies (assessed as an equivalent of Australian Year 12 secondary studies). Minimum overall pass is required.
English language requirements
International English Language Testing System (IELTS): An overall score of 5.5 or higher with no individual band lower than 5.0 (only the Academic Test is accepted), OR
Test of English as a Foreign Language (TOEFL): 63 overall (internet-based test); OR
Pearson Test of English (PTE): Academic score of 36 or higher, OR
Completion of Year 12 English in an Australian secondary school or college or equivalent with a minimum result of "Satisfactory" or equivalent.
YOUR CAREER IN ANIMATION BEGINS NOW
Learn in a collaborative, studio-based environment where your teachers are also your mentors.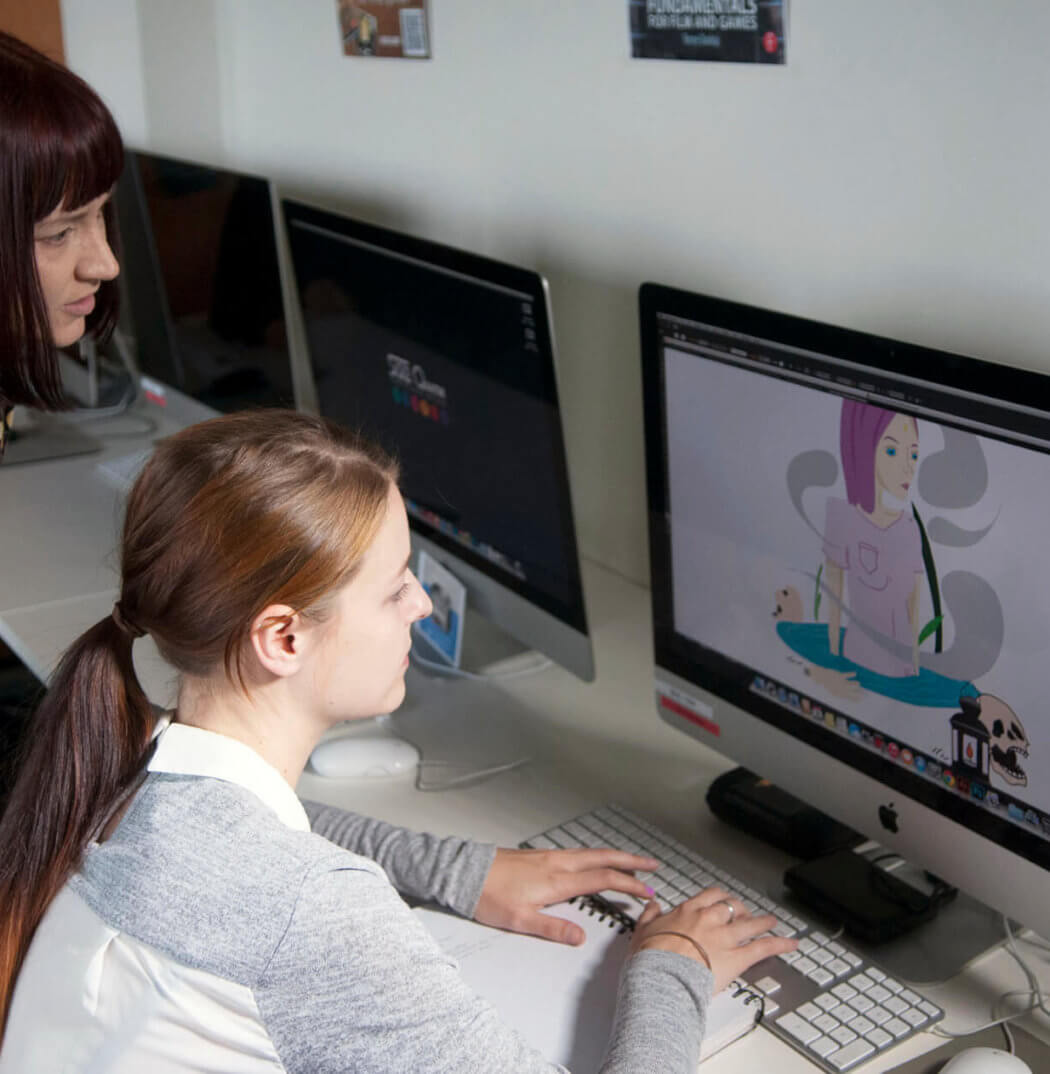 SAE has a range of approaches to learning and teaching to provide flexibility in the face of changing circumstances as required.
Learn on industry-standard animation software including Autodesk Maya and Adobe Creative Suite.
Develop skills in industry-standard software packages
Autodesk Maya and Adobe Creative Suite.
Practical, immersive training
All work is project based, with no exams.
Flexible course options
Completing one of the three stages of the Bachelor of Animation, this course provides an excellent pathway into the degree.
Become job-ready
To complement your technical skills, you will develop communication, introductory project management, teamwork and collaboration skills.
ANIMATION COURSE COVERS
Creation of 3D digital models
Production of 3D assets
Designing animations and digital visual effects
Storyboards
Visual design
Character rigging and staging
Drawing
Course Structure
The Diploma of Animation is stage 1 of the 3 stages of a Bachelor.
Develop the essential technical animation skills and the knowledge required to collaborate with other creative media students and professionals.
Credit Points: 10

Develop your reflective, critical and analytical skills and abilities through an enhanced awareness and understanding of the purpose of tertiary education from a personal, societal and professional perspective. In class activities are used to prepare you with the skills and confidence to engage with a range of scholarly frameworks that you will encounter throughout your studies. You will explore the animation discipline through a team presentation, where you will develop group working, thinking and learning skills.
Credit Points: 10

As a practice, drawing provides a core skill set for the expression of both concept and form. This unit introduces you to the concepts and methodologies of drawing using a variety of media with an emphasis on drawing from life, including anatomical studies and perspective techniques for environment and character construction.

The unit is an introduction to the general practice of drawing and rendering and specifically helps to scaffold further learning through support for developing sketch-based visual production skills & knowledge.
Credit Points: 10

Take a practical first look at modeling, lighting, shading, animation, and rendering to gain a holistic, foundational understanding of computer graphics.

This unit will involve using industry-standard software such as Autodesk 3Ds Max, Maya, and Blender. The practical and theoretical knowledge of 3D production pipelines acquired in this unit will act as a foundation for successive animation units.
Credit Points: 10

As the name suggests this unit provides you with an introduction to animation. You will apply the theoretical underpinnings of animation processes via a range of practical explorations and critical analyses. This will provide you with a solid understanding of animation principles and methods that will form the foundation of successive animation units.
Credit points: 10
This unit will introduce you to the mindset and skillset of the creative entrepreneur, and transform your approach to problem-solving. You will analyse historical and contemporary models of leadership and best practice in entrepreneurship, and use tools for project design that include ideation, problem framing, and pitching. The skills in this unit will assist you in developing your creative thinking, exploration, and experimentation methods, allowing you to experiment with project design and content for creative media.
Credit Points: 10

In this unit, you will apply and build upon the foundational animation and computer graphics skills and knowledge that you have learned, to advance your skills via some in-depth, practical activities of 2D/3D character modeling and applied animation techniques.

By undertaking a series of iterative tasks, your static models will become talking moving characters and you will develop the skills and knowledge required to showcase them effectively.
Credit Points: 20

In this unit you will engage in a collaborative studio-based learning environment, to produce a short animation under client direction and in response to a brief. You will be guided through your exploration of the production methods needed to pitch effective creative concepts to potential producers.

By working in small groups (and in accordance with the SAE Group Work Policy), various creative and organisational challenges will be encountered throughout this process, requiring the application of appropriate project management techniques to help ensure the brief is successfully met.
102826J (2 TRIMESTERS)
094747A (3 TRIMESTERS)
Australian Qualification Framework
AQF: Level 5
Fully Accredited with TEQSA
Career Outcomes
What jobs will this course lead me into?
Junior 3D Modeler

Junior 3D Animator

Junior 3D Visualisation Specialist

Junior Character Designer

Freelance Animator
Course FAQs
Equipment is available for on and off campus production work, with some changes to the hire and use of equipment, guided by health and hygiene protocols. We have made some slight adjustments to teaching and assessments to ensure that projects will not be impacted. For more information about hiring equipment and booking studios, please contact Student Services or the Tech Team at your campus.
We carefully design and deliver all our units to help you develop the knowledge you need to be successful in your chosen field of study. Courses and course units at SAE follow best practice teaching and learning.
CREDIT AND RECOGNITION OF PRIOR LEARNING

SAE may recognise your prior learning and may grant credit towards satisfying the requirements for a VET or a higher-level program. This is applied where previous learning is considered equivalent to the content and learning outcomes prescribed for units within the program.
For full details, please refer to SAE's policy on recognition of prior learning and credit transfers.
YOUR DREAM CAREER BEGINS NOW
With our industry connections, specialised teachers and personalised education in world-class facilities, you can unleash your creative future with confidence.