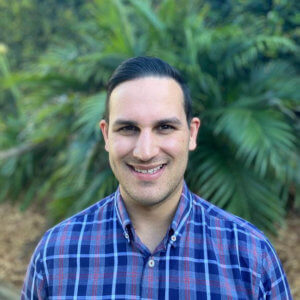 By Barry de Silva
Public Relations Manager
The Kia Seltos advertising campaign, which featured the music of American rapper and singer Jack Harlow, was played globally at the start of 2023. The editing process, which took two weeks to complete, Cameron explained was far from straightforward.
"It was a fun project to be a part of, but it was also the toughest job I've ever worked on," Cameron said. "The director and I had about 60 hours of footage to go through, and it wasn't scripted either. When you watch the ad, it has a cool flow to it, but it took a lot of time to get it down to under a minute.
"The only original transition, from the creative treatment, that stayed in the final cut was where the camera flies out of the car window, and you have this big 3D segment where it flies around the car," Cameron added. "We had a lot of cool shots and footage, and it was just up to the director and I to piece it all together."
On 12 October 2023, the 18th annual SAE International Awards were held in Cologne, Germany. The awards celebrate the best alumni and student work from SAE's 48 campuses around the world. With 16 categories and over 500 entries, Cameron's editorial work on the Kia Seltos project was recognised for Best Film & TV Production, something which he was blown away by.
"I had just finished boxing, and I checked my phone, and I noticed I'd received this email that said I'd won – I was super stoked," Cameron enthused.
"It's pretty wild and quite an honour to say I've been recognised by the SAE international community."
Looking back at his time at SAE Byron Bay, where he studied the accelerated two-year Bachelor of Film Production, Cameron explained how the degree prepared him for the industry.
"The most important thing I got from my time at SAE, aside from the skills, was the body of work and learning business skills, like how to set up a website," he said. "I still use the same domain I created at SAE, and that was what secured my first job.
Cameron with his 2022 Flickerfest award for Ishmael
After graduating in 2015, Cameron secured a role as an editor at Emmy Award winning creative production company, Infinity Squared, and in 2019 took the plunge to become a freelance editor.
"To start with, it was incredibly tough, as the pandemic had just begun, but things started to pick up and I've been busy ever since. Over the years I've built some good relationships with directors, and they're the ones that ultimately employ you," Cameron said.
"Next week, I'm working with a director I've never spoken to, but I was recommended to him by another director I'd worked with, so there's a lot of word of mouth that goes on in the industry."
With a unique music video filmmaking style, Cameron said that even though he's not influenced by other creatives, he does like to expose himself to as much content as possible. "I spend a lot of time watching a lot of ads and movies and if I get a good feeling about it, then that may be something I use as inspiration down the road," he said.
Even though film editing can be a lonely business that involves many hours behind a computer screen, Cameron emphasised that there are some key traits any budding editor must have if they want to make it in the industry. "You've got to have a passion for storytelling. They can have simple narratives, but if you're interested in changing the way people interpret the world, then that can be impactful."
Tags
Alumni
Byron Bay
Film
Graduate