Down to create it
Get inspired by some of our most revered graduates-turned-creative industry professionals.

Hear the real-life stories of alumni from each of our study areas and see what it's like to watch your creative dreams become reality.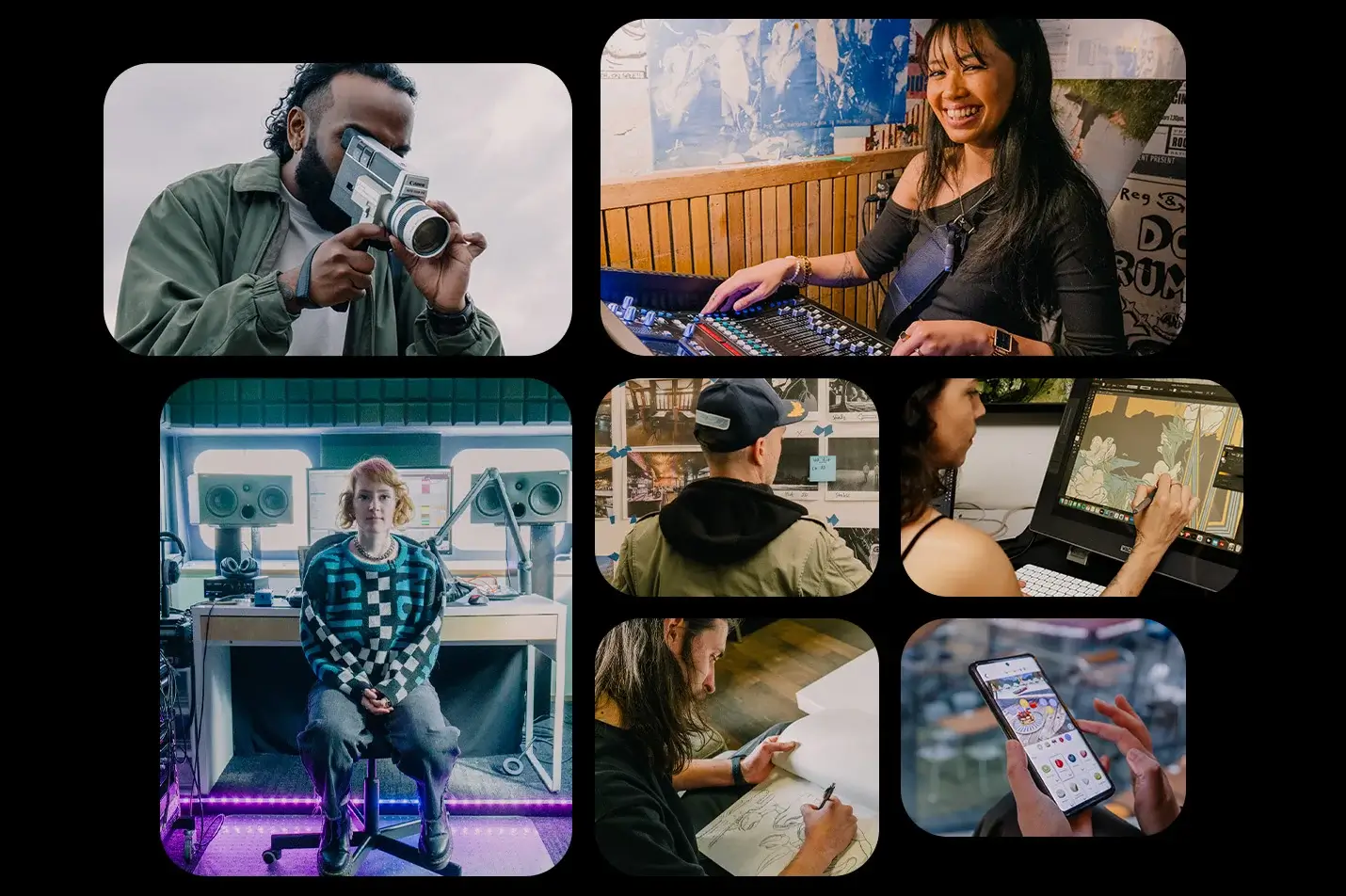 SAE AUDIO ALUMNI
AIESHA BACALSCO
"While studying at SAE, the biggest turning point for me was when I got to do the Bon Jovi internship! We got to stand behind the sound desk and see how the whole show operates and works. For me, at the time, it reaffirmed this is what I want to do with my life. That was an incredible experience."
Hear more about Aiesha's journey and how she landed her most recent gig as a Live Sound Engineer at the Espy in Melbourne.
SAE FILM ALUMNI
SHAKI PRASANNA
"SAE became my home; it was my safe space. Learning how to read films was the biggest skill I took out of SAE. Learning from teachers who genuinely wanted to push you, changed everything for me."
Hear more about Shaki's journey and the type of projects he's currently working on as a Creative Collaborations Director at Atomos.
SAE GAMES ALUMNI
RACHEL TOOMEH
"What I liked about SAE was the exposure to tutors that had real life experience, that set me up for what expectations I should have for the industry. They also offered access to a range of disciplines, everything from programming, to sounds design, to 3D animation. Having that exposure set me aside when I was going for jobs."
Hear more about Rachel's passion for games and her journey from study, to now working as a Product Manager for the game development studio Not Doppler.
SAE DESIGN ALUMNI
FERNANDA GERDES
"The amazing thing about SAE was the real-life projects that we worked on; it meant I actually had things in my portfolio that really happened and that I was able to showcase to the outside world. And I left SAE with a job, which was pretty amazing."
Hear more about Fernanda's journey and how she turned her work placement at SAE into a full-time job as Head Designer at Bluesfest.
SAE ANIMATION ALUMNI
BLAKE SALA
"The course at SAE offered a wide variety of disciplines. I got to learn writing, live action, animation, game design, depositing, tracking – basically everything you would need to step into wherever you want in the VFX industry."
Hear more about Blake's journey and his current role as an Environment Designer at Luma, where he's worked on films like Spiderman and Elvis, to name a few.
SAE MUSIC ALUMNI
BECKI WHITTON
"SAE really provided me with the technical vocabulary that I needed and it also surrounded me with a bunch of collaborators working in a heap of different musical genres. Learning from them has given me strategies that still help me to this day."
Hear more about Becki's journey with SAE and how she prepared for a career as a mixing/mastering/vocal engineer, songwriter and producer.
SAE MASTER OF CREATIVE INDUSTRIES POSTGRAD
MARK GAMBINO
"SAE has shown me that it's not so much what you want to do or make, it's what you want to say. It's given me the skills and the framework to be able to build my creative practice and situate me as a filmmaker, not only in the national scene but also on the international market."
Hear more about Mark's experience studying a Masters of Creative Industries at SAE.
THE FUTURE IS YOU.
STUDY AT SAE.
Start your Animation, Audio, Creative Industries, Design, Film, Games, or Music career with SAE.